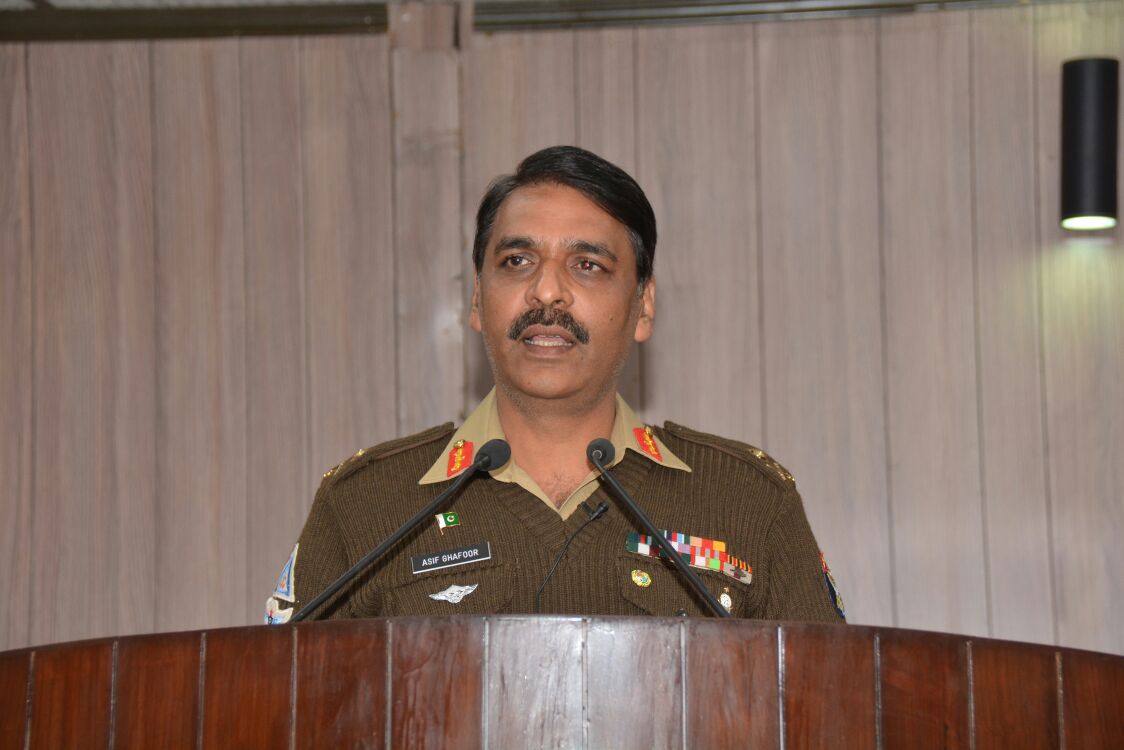 Key Security Issues: Pakistan Army's Spokesman Maj Gen Asif Ghafoor Will Address Media Today
PM Imran Khan has already authorized armed forces to respond to any aggression by India
LAHORE MIRROR REPORT: Maj Gen Asif Ghafoor, the Director General (DG) of Inter-Services Public Relations (ISPR)– the key media wing of Pakistan Armed Forces– is going to hold an important news conference in Islamabad today.
The spokesperson will interact with reporters in a wide-ranging interaction at 3pm, says an announcement by ISPR.
The media interaction carries much weight in the wake of tension mounting between Pakistan and India following Pulwama attack on Indian paramilitary troops in IoK. The case of Indian spy Kulbhushan Jadhav in the International Court of Justice is also expected to be brought under light by the DG ISPR. 
Pakistan's Prime Minister Imran Khan in an important meeting on Thursday empowered armed forces to take independent decision to counter any aggression or misadventure if committed by Indian army.
The PM's directive came during a meeting of the National Security Committee, that discussed geo-strategic and national security environment, and situation arising after the Pulwama incident.
The forum noted the state of Pakistan is not involved in any way, means or form in the said incident, said a statement issued after the meeting, adding, "The incident was conceived, planned and executed indigenous."
It said Pakistan has sincerely offered investigation of the incident as well as the offer for a dialogue on the issue of terrorism among other disputed issues.
"We expect India to positively respond to the offers. Based on the investigation or any tangible evidence provided, the State of Pakistan shall take action against anyone found using our soil," the statement read.
"However, India also needs deep introspection to realize that why people of IOK have lost fear of death. The violence by Indian forces in IOK is highly counterproductive. The global community needs to play its part in resolving the long pending Kashmir issue in accordance with UN resolutions and aspirations of the Kashmiris."
"Pakistan alone has endured over 70,000 casualties in the process besides heavy loss to national exchequer. That is why the National Action Plan conceived and issued in 2014, outlined concrete sequenced measures with consensus of all political parties and institutions of Pakistan. Having addressed direct threat to the State of Pakistan, we need to move to ensure that militancy and extremism are routed from the society and the State never becomes hostage to extremists."

In this regard, the prime minister directed both the Ministry of Interior and security institutions to immediately accelerate actions on ground.
PM Khan reportedly held a meeting with Army Chief General Qamar Javed Bajwa before chairing NSC meeting.
Growing Tension in Region  
The directives by the Pakistan premier come at a time of heightened tensions between the two nuclear-armed neighbours over February 14 attack in Pulwama district of Indian-occupied Kashmir (IoK).
Some 44 Indian paramilitary personnel were killed when an explosives-packed van rammed into a convoy transporting 2,500 security forces in the district, in the deadliest attack in the valley in 30 years.
The attack followed New Delhi's blaming of Islamabad for the incident, which was strongly denied by the Pakistani leadership.
Earlier this week, PM Khan responded to Indian rhetoric with an offer to investigate the Pulwama attack and act if New Delhi shared "actionable intelligence with Pakistan."
Khan, however, made it clear that if the Indian side thought they would attack Pakistan, then Pakistan would not just think but retaliate.
People of Pakistan intensify support for Pakistan Armed Forces on social media  
Millions of Pakistanis have joined social media platforms to fully back their armed forces against any Indian aggression. Whether it is Facebook or Twitter citizens are showing full zeal of patriotism for the country and its armed forces while giving challenge to Modi regime.
The country's news channels are also seen countering negative and false propaganda of Indian news channels which are making baseless allegations of Pakistan's involvement in Pulwama attack