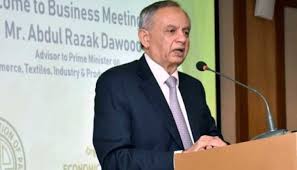 Japanese companies to invest in Pakistan's steel industry: PM's advisor
ISLAMABAD: Advisor to Prime Minister on Commerce, Textile and Industries Abdul Razak Dawood Friday said that representatives of major Japanese companies will be visiting Pakistan next month and invest in the country's steel and baby formula milk industries.
Speaking at a press conference, Dawood said a positive development took place during talks regarding bilateral trade between the two countries held in Japan last month, wherein major Japanese companies assured of investment in Pakistan.
He said Japanese companies manufacturing steel and baby formula milk are coming to Pakistan. A delegation of Japanese investors will be visiting the country after January 15.
The minister said Japanese government also assured of allocating skill development and technology development funds for small industries in Pakistan. He said talks on a change in independent trade agreement with Malaysia will also be held in January, whereas the projects under the first phase of China-Pakistan Economic Corridor will be completed in next 10-12 months.
Commenting on gas shortfall in the country, Dawood said the issue will soon be overcome, assuring that gas supply to fertilizer plants will not be suspended.
He said the country had urea fertilizer in abundance, whereas 100,000 tons of imported urea fertilizer had also reached the country.
The PM's advisor said the industrial policy structure will be prepared this month, while a five-year textile policy was also being drafted.