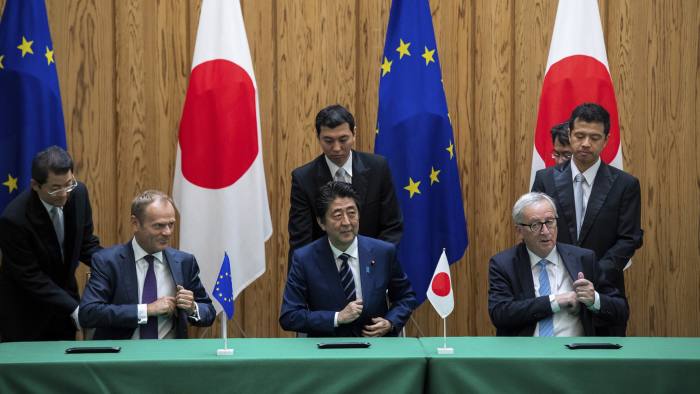 Japan, EU Ink Trade Deal In Move Against Protectionism
Signatories say world's largest bilateral pact makes them 'flag bearers of free trade'
TOKYO (Lahore Mirror Monitoring Desk)- Japan and the European Union (EU) have signed the world's largest bilateral trade pact in a move against the spread of protectionism and the "increasing darkness" of international politics, declaring themselves the "flag bearers of free trade".
The deal, signed by Japanese and EU leaders on Tuesday, creates a trade zone covering about a third of global GDP. It comes as trade war tensions between Washington and Beijing are escalating and longstanding alliances appear to be under threat from Donald Trump's "America First" rhetoric.

The agreement, which involved significant concessions on both sides, will eventually reduce heavy Japanese tariffs on European wine, cheese and other foods and lift EU tariffs on Japanese cars and vehicle parts. The agreement must be approved by the European and Japanese parliaments before it can pass into law. Although the signing was ceremonial and the US president was not mentioned during the accompanying press conference, Donald Tusk, EU Council president, and Shinzo Abe, Japan's prime minister, repeatedly stressed the symbolism of the event at a moment when key global figures were no longer behaving predictably.
"Politically [the pact] is a light in the increasing darkness of international politics," said Mr Tusk, referring to the geopolitical tension of recent months. "We are sending a clear message that you can count on us. We are predictable. Both Japan and the EU." Mr Abe, who accelerated Japan's agreement in principle to the deal through parliament and is hoping to use it to invigorate his slow-burning "Abenomics" economic revival programme, said the accord showed the world the "unshaken political will" of Japan and the EU to lead as champions of free trade at a time of rising protectionism. Mr Abe and Mr Tusk's comments were echoed by Jean-Claude Juncker, European Commission president. "Trade is about more than tariffs and barriers. It is about values," he said. "There is no protection in protectionism." Mr Abe's acceleration of the Japan-EU deal forms part of his broader effort to steer Mr Trump away from trade war escalation while seeking to insulate Japan from some of the risk should that strategy fail. The plan saw Japan pushing through legislation at the end of June to ratify the TPP11 — a revised version of the Trans-Pacific Partnership that excludes the US. The TPP had appeared doomed when Mr Trump pulled the US out in 2017. "It is a strategic decision by Japan to increase its multilateral effort through TPP11 and the EU-Japan trade agreement," said Masahiko Hosokawa, a former trade ministry official and professor at Chubu University. "They hope it will act as a trigger to bring the US back to the multilateral framework." Mr Trump has pursued trade actions against China and close allies including Canada, Mexico and the EU. The measures have led to a series of retaliatory tariffs.