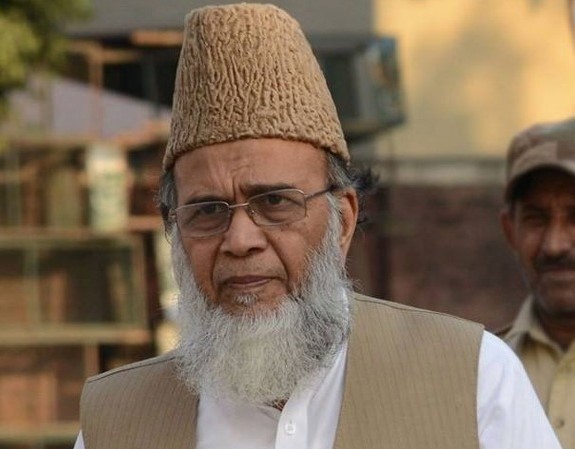 Jamaat-e-Islami Former Ameer Syed Munawwar Hasan Passes Away at 78
KARACHI– Former Jamaat-e-Islami chief Syed Munawwar Hasan passed away on Friday at a hospital in Karachi. He was 78.
According to Hasan's family, he was very sick and under treatment at Imam Clinic.
Hasan was recently put on the ventilator after his health worsened.
Hasan was born in Delhi in August 1941. After partition in 1947, he moved with his family from Delhi to Lahore and then, from Lahore to Karachi where he pursued his education and politics.
The former JI chief started his politics from the National Students Federation (NSF) and went on to become its president in 1959.  He joined the Islami Jamiat-e-Talaba organisation in June 1960 and went on to become its president in 1963.
Hasan was respected by his peers in politics and regarded with respect by his rivals. He was the fourth JI chief who led the party from March 2009 to 2014.
After his death, JI leaders and workers arrived at the hospital where he had breathed his last. No announcement has been made regarding his funeral prayers so far.
According to  press release issued by JI, Syed Munawar Hassan died at the age of 79.
The fiery orator, who left deep mark on country's politics as a student leader during late 1950s and 60s and later as head of the JI from 2009 to 2013, breathed his last on Friday noon at a local hospital in Karachi where he had been admitted a three weeks ago, according to a press release issued from Mansoora.
He had been suffering from a respiratory illness for few days, a condition that was complicated by Parkinson's disease. His funeral prayer will be held after Zuhar prayer in Nazimabad Eid Gah Ground Karachi.
JI Emir Senator Sirajul Haq, Secretary General Amirul Azeem, Deputy Emirs Liaqat Baloch, Dr Farid Paracha, Rashid Nasim, Asadullah Bhutto, Dr Mirajul Huda Siddiqui and all other leaders and workers have expressed deep grief over the demise of their leader and fatherly figure.
President of Pakistan Dr Arif Alvi, Prime Minister Imran Khan, Senate Chairaman Sadiq Sanjrani, PML-N President Shehbaz Sharif, PPP Chairman Bilawal Bhutto Zardari, JUI-F President Maulana Fazlur Rahman, Kashmiri leader Syed Ali Gilani, Sindh Chief Minister Syed Murad Ali Shah, Islami Tehreek chief Syed Ali Gilani and other top leaders from different religious and political parties sent condolence messages on the demise of Syed Munawar, paying rich tribute to his services. The JI headquarters Mansoora received condolence messages from the people of different walks of life from all over the country and abroad who paid tribute to the religious and nationalistic services of the late leader.
"His (Syed Munawar Hassan) death caused an irreparable loss to the Muslim world. The country has been deprived of a sincere leadership," said Senator Siraj.
While serving as JI chief, Syed Munawar made his unique recognition among Islamic movements of the world and later he led "Go America Go" historic movement during the tenure of former Military dictator Parvez Musharraf, making the slogan popular all over the country.
Syed Munwar, who was younger from all his brothers and sisters, was born in a Delhi's highly qualified and well-off family on August 5, 1941. His family migrated to Pakistan in 1947 and settled in Karachi. Having inbuilt leadership qualities, he started participation in debate competitions during his schools days and joined the left wing National Student Federation (NSF) upon getting admission in Government College Nazimabad. He was serving as NSF Karachi chapter president when on request of some leaders of Islami Jamiat Talab, he started reading the Jamaat-e-Islami's founder and then Emir Syed Abual Aaali Maududi's literature.  Getting influence from Maulana Maududi's writings, he left the NSF and joined the IJT. He served as IJT Karachi chapter Nazim in 1964 and then Nazim-e-Aala Pakistan from 1966 to 1968. He joined the Jamaat-e-Islami Pakistan on completing his masters' degrees in Sociology and Islamic Studies from KU.
Syed Munawar served as JI Karachi Emir from 1980 to 1991, JI Pakistan Secretary General from 1993 to 2008 and JI Pakistan Emir from 2008-13.
He actively participated in the national political and religious movements like Nizam-e-Mustafa Tehreek, Bangladesh Namanzoor, Islami Jamhori Ittehad and Muthida Majlise Amal from the platform of the JI. Syed Munawar contested in 1977 general election from Karachi and secured victory with the historic lead against his opponent from the PPP. However, General Zia later imposed martial law and declared the elections as illegal.
Syed Munawar life was the reflection of simplicity, straightforwardness, honesty and dedication, said the JI leaders. They prayed may Allah Almighty grant him high place in Jannah.