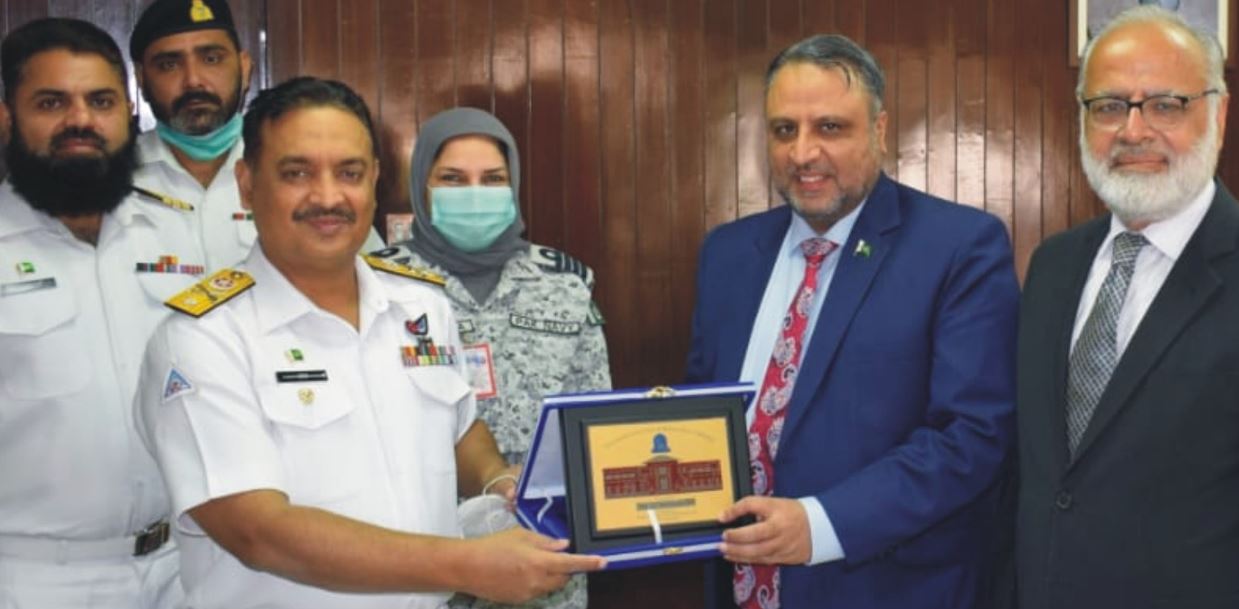 BAHAWALPUR– Prof Dr Athar Mahboob Vice Chancellor Islamia University of Bahawalpur today visited the Pakistan Navy Station Shifa ( PNS Shifa ). On this occasion , Vice Chancellor exchanged views with Surge. Cdre. Abid Hussain Shah , Commandant PNS Shifa Hospital, Karachi. Both sides discussed various avenues of cooperation in the field of health and medical sciences including nursing and paramedics training.
The Vice Chancellor also visited Pakistan Navy Medical Training School and viewed teaching and training facilities besides having  interaction with medical staff. Director IUB Health Education Project Dr Fazal Mahmood Khan was also present during the visit. PNS Shifa is a medical hospital established in 1953. Pakistan Navy Nursing School was established in1982 which produces female nursing cadets and trainee officers for Armed Forces Nursing Services.
Int'l webinar on Global Discourses 2020
Department of English Linguistics organized an international webinar on 'Global Discourses in 2020' on 16.12.2020. Dr Yasir Hadidi, Khazer University Azerbaijan, Dr. M. Saeed Akhtar, Chairman Ripha International University, Faisalabad Campus, Dr Akbar Sajid, head, department of English, NUML, Multan, Dr. Riaz Hussain, incharge, dept of English Linguistics, IUB and Sadaf Masroor, PhD scholar, dept of English Linguistics, IUB were the speakers at the webinar.
Speakers presented sociolinguistic analyses of the important discourses of 2020 such  Karabakh War, Covid-19 and Brexit. At the end of the webinar, the focal person highlighted outcomes of the webinar and gave vote of thanks.
Engr. Prof. Dr. Athar Mahboob, Worthy Vice-chancellor, IUB appreciated the efforts of the department in organizing the event. After the Webinar, our speaker from Azerbaijan , left the following message of love and fraternity for Pakistanis and Dept of English Linguistics, IUB.
Board of Studies meeting
The online meeting of Board of Studies was conducted in the Department of Library and Information Science. Dr. Muneera Nasreen Ansari Chairperson, Department of Library and Information Science, the University  of Karachi was the external expert. The meeting was chaired by Prof. Dr. Rubina Bhatti. Senior faculty members Hafiz Muhammad Shafique, Dr. Mahe Bushra Asghar, Dr. Salman Bin Naeem, Mrs. Yasmeen Kouser, senior librarian, Dubai Mehal College and Muhammad Talib, Deputy Controller, Examinations Section, IUB attended the meeting.
The agenda was discussed by the members of the Board of Studies thoroughly. The Board recommended for the approval of topics and synopses of four PhD and three MPhil students, panel of local & foreign experts for theses evaluation and Viva Voce of PhD scholars, admissions and registration of MPhil (Spring 20-22) and PhD students (Spring 20-23).
The BoS also made recommendations for the approval of research supervisors for MPhil and PhD scholars, panel of external examiners for conducting PhD comprehensive exams and panel of local experts for synopses evaluation of PhD students. Furthermore, the Board approved the external/internal examiners/paper setters for Associate Degree Program (ADP) and BA/BSc/B.Com/MA/MLISc examinations for the year 2021-22.— PRESS RELEASE