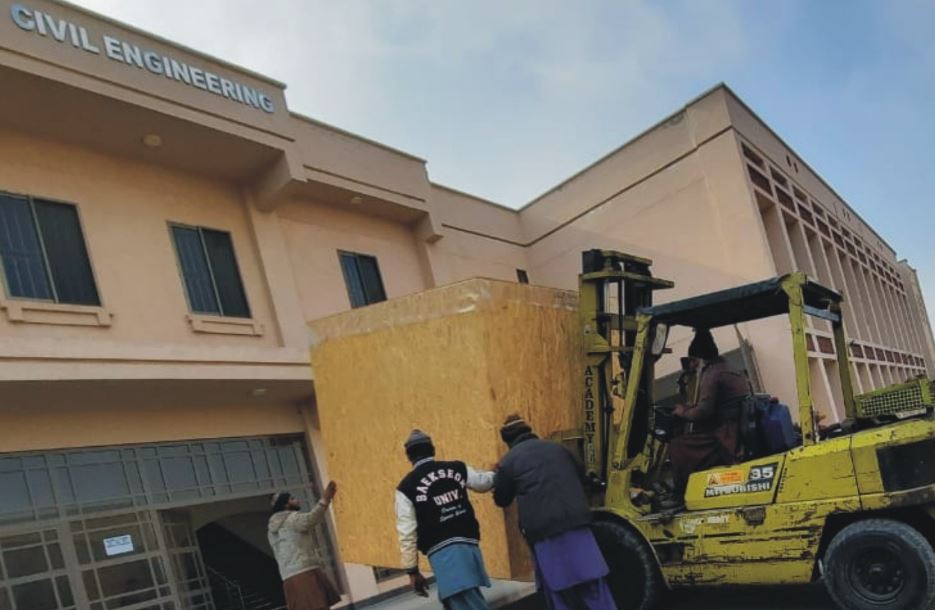 BAHAWALPUR– Engr. Prof. Dr. Muhammad Amjad, Dean Faculty of Engineering Islamia University of Bahawalpur has said that the latest machinery for testing and research at Engineering College has been received from Germany.
This Equipment has been obtained on the directions of Worthy Vice Chancellor Engr. Prof. Dr. Athar Mahboob so that state-of-the-art equipments are available for use in teaching and research in Punjab Province in particular. The lab is equipped with 10m long flume to demonstrate and study the main phenomena of open-channel flow, sediment transport channel, visualization of seepage flow, advanced hydrologic investigations, Hydraulic Benches, fluid machinery etc.
The Fluid Mechanics Laboratory at the Department of Civil Engineering of the Islamia University of Bahawalpur has a purpose to offer the opportunity of hands-on work and demonstrations for teaching and research in the fields of Hydraulic Engineering and Fluid Mechanics. The equipment is procured from the German Principal-GUNT. The capital cost of equipment is about 65million.
The laboratory not only provides facilities for Civil Engineering students (BSc, MSc, PhD level and researchers) but also achieves potential requirement of Mechanical Engineering Program.
Thus, the experiments in the Fluid Mechanics Laboratory provide an excellent opportunity for students to visualize and analyze the very same hydraulic phenomena they are studying in the classroom and will apply as practicing engineers.
MoUs
The Islamia University has signed 5 MoUs with the International Academic Organizations/Universities. They include: University of Technology Mara Malaysia, Chinese Academy of Sciences China, University Federal De Itajuba Brazil and Oxfam International UK.
Director International Linkages IUB, Dr Abid Shahzad presented the MoUs to the Vice Chancellor Engr. Prof. Dr Athar Mahboob who appreciated the efforts of the directorate to uplift IUB at the International arena. Through newly signed MoUs, IUB will get benefits of joint research ventures in the fields of agriculture, science and technology.
The Director told that the Directorate of International Linkages is jointly working with the Directorate of IT for establishing a database for all MoUs signed by IUB since 1975, the inception of the university. The Directorate is also going to organize seminars on International scholarships for IUB graduates to facilitate maximum research scholars to go abroad for higher studies. The Directorate is launching a website to update all activities such as existing MoUs, seminars, international scholarships, student exchange and faculty exchange programmes on the website.    
Cut-flower and Vegetable Production, Research and Training Cell
A meeting of selection committee for the projects "Establishment of Cut-flower and Vegetable Production, Research and Training Cell" and "Installation of Micro-irrigation and Lawn Cum Avenue Plantation" was held at Conference Hall, University College of Agriculture and Environmental Sciences. Interviews were conducted for hiring the project's staff including Project Manager, Horticulturist, Social / Community Mobilizer, Mali and Baildar / Labour Man. The committee members Mr. Afzal Ahmad, Dr. Asif Naveed Ranjha, Dr. Muhammad Rashid Shaheen, Dr. Muhammad Aurangzaib, Mr. Shaji-ur-Rehman and Mr. Ilyas Hashmi conducted the interviews. It is worth mentioning here that these projects will not only enhance research and capacity building of students & teachers at The Islamia University of Bahawalpur, but will also generate revenue for the university.— PRESS RELEASE