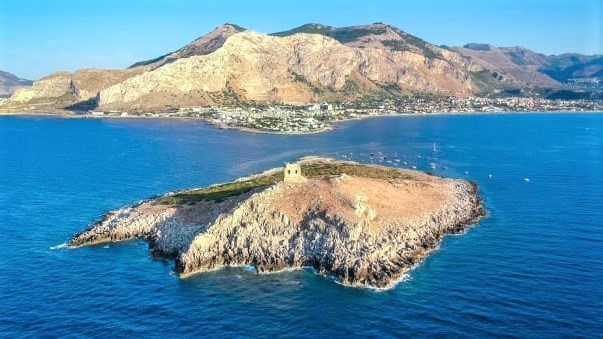 LAHORE MIRROR (Monitoring Desk)– An aristocratic family in Italy is selling their island in Sicily for a lot less than the price of a Tuscan villa or a Manhattan loft apartment.
Isola delle Femmine, a wild pristine atoll near Palermo with a 17th century crumbling stone tower, is up for sale with offers invited of more than €1million — about $1.1 million.
It's being sold by an aristocratic family which, like many others in Italy, is struggling to afford the upkeep of estates they've owned for centuries.

The uninhabited oval-shaped island is part of a protected marine park that's now an elite scuba diving and snorkeling spot.
Ancient Roman anchors and relics lie on the surrounding seabed. Its reef waters are inhabited by lobsters, sea anemones and madrepora stony coral. Solo swimming and sunbathing are guaranteed.
The island was originally on sale at a much higher price, but with no takers it's now been lowered to bargain rates.
"The price at first was €3.5 million but given nobody showed up we've now lowered it to a flexible range between €1 and €3 million, open to offers and negotiations," real estate agent Riccardo Romolini tells CNN Travel. "Anywhere close to €2 million we'd be very interested."
Isola delle Femmine lies just 300 meters from a mainland village which is named after it. Once upon a time the island was likely a peninsula, connected by an isthmus.
Locals affectionately call it "l'isolotto," the baby isle.
SOURCE: CNN INTERNATIONAL