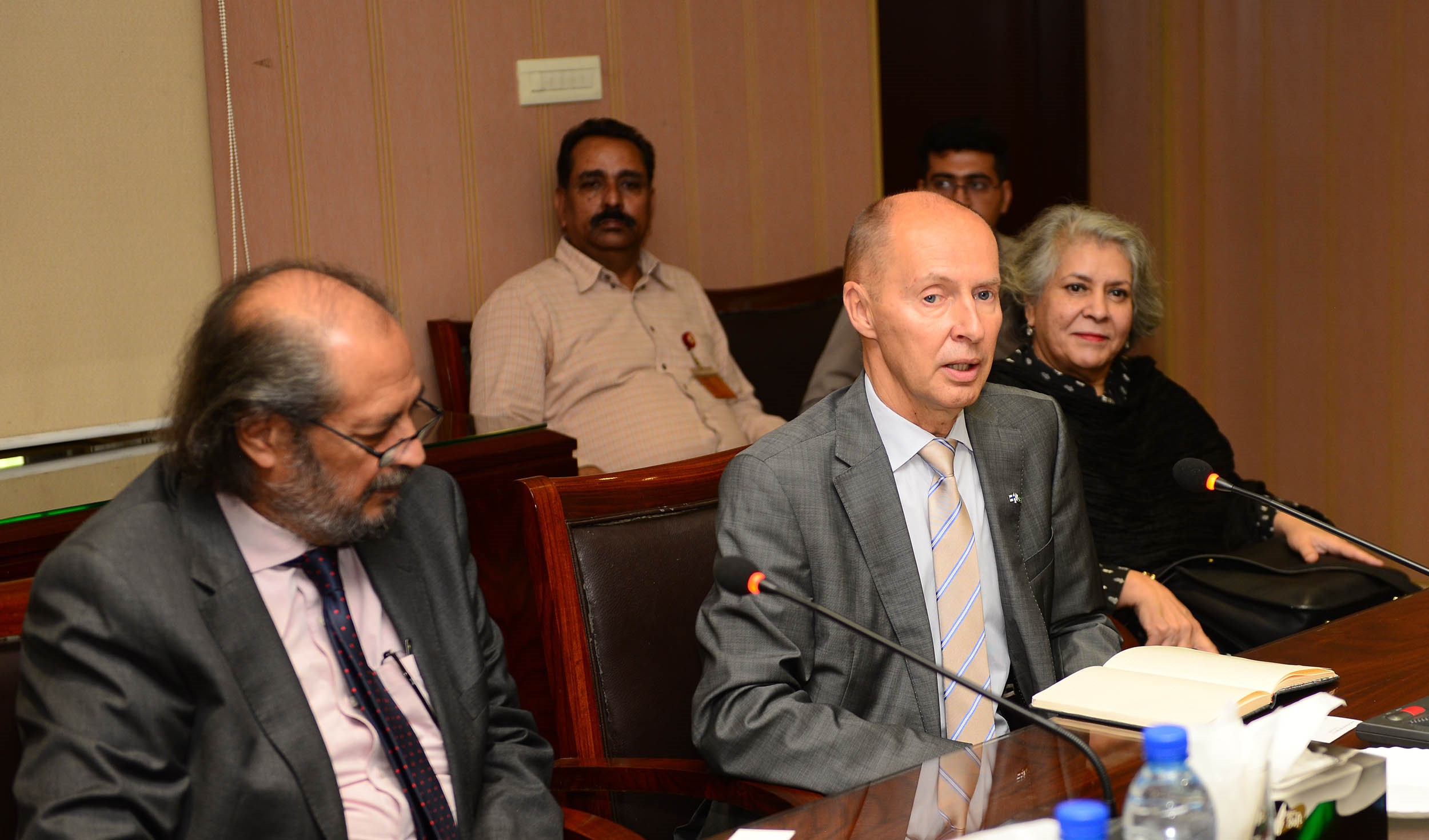 Investment in Education a Key to Economic Development: Finland Ambassador
--- Harri Kämäräinen visits GCUL and interacts with academia
LAHORE– Ambassador of Finland to Pakistan Harri Kämäräinen has said the investment in education is the key to economic development as all the speedy progress they have achieved is precisely the result of Finland's educational polices. 
"About two years back, we celebrated our 100 years of independence, so it's the best time to look at the history from where Finland had come from. A century ago, we stood among the poorest countries in Europe.
All the development, we see today, has taken place after the World War II, and I believe, the one secret behind the Finland success story is precisely its education," said Mr. Kämäräinen while talking to the academic and administrative heads during a one-day visit to the Government College University Lahore.
Vice Chancellor Prof Dr Hassan Amir Shah welcomed the Ambassador and briefed about the history, traditions and achievements of GCU Lahore. Honorary Consulate of Finland Durre S. Ahmed was also present.
Talking to the senior professors, the Ambassador said their success started with the literacy; already 100 years there had been law in Finland that if a woman or a man wanted to marry, they must learn how to read and write first and that law had ensured education to both genders on equal footings.
Mr. Kämäräinen said that education system in Finland was closely related to vast network of public libraries throughout the country; recently our Helsinki's Oodi Central Library won the title of world's best new public library.
Being Ambassador to this great country Pakistan, Mr. Kämäräinen said it's his responsibility to establish strong linkages with academia and act as bridge between the universities of both countries. He said some of Pakistani students were studying in top international universities of Finland. "I have a great news for you that they are best of the best," he added.
The ambassador said that elimination of corruption was another reason for their speedy progress and as per the Corruption Perception Index, Finland stood among the three most transparent countries of the world.
Mr. Kämäräinen also laid a stress on sustainable use of natural resources, saying that they used their forest resources for economic uplift but still in 2019 they had highest area of forests than ever due to the sustainable use.
Speaking fluently in Urdu, the ambassador said also talked about the beautiful culture of Pakistan and the recent technological advancement he had witnessed at industries in Sialkot
Later, the Ambassador visited the university's Naqoosh museum that houses more than 10,000 literary letters and manuscripts of noted writers including Mirza Ghalib, Allama Iqbal, Saadat Hassan Minto, Ahmad Nadeem Qasmi, Hafeez Jalandri, and Suffi Tabasum.— PRESS RELEASE