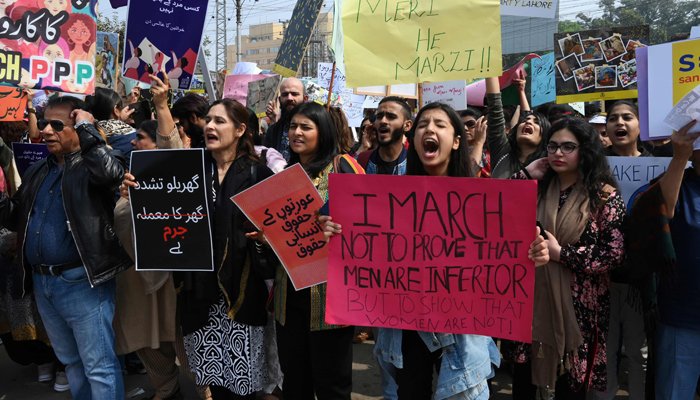 Int'l Women's Day Call for the Protection of Women's Rights
By Our Web Desk
LAHORE– To raise raise awareness about the rights of women labourers, the non-governments Organization, Students Unions and other parties took out rallies and stage demonstration  in all major Pakistani cities are taking part in Aurat March events being held to mark International Women's Day and call for the protection of women's rights.
The protestant  demanded the formation of functional sexual harassment committees under the Protection against Harassment of Women at work placeAct 2010. They demanded that consent-based, Life Skills Based Education should be part of the primary and secondary school curriculum for children to assert bodily autonomy and prevent rampant child abuse.
Other demands include decriminalization of virginity tests for rape victims, establishment of gender-based violence reporting cells in police stations across Sindh and Pakistan, and an end to sexual harassment.
The first Aurat March was held in 2018 in Karachi. The next year, it was extended to more cities, including Lahore, Multan, Faisalabad, Larkana, and Hyderabad. This year too, the marches are being held in Karachi, Lahore, Islamabad, and other cities.

In Lahore, the Aurat March started from the Lahore Press Club and reached its destination outside the Evan-e-Iqbal  and AlHamra Hall crossing. The Aurat March Lahore organisers also laid out a "#MeToo blanket" on which women shared their experiences of sexual violence and abuse.
In line with its focus on healthcare workers and women's health, the Lahore chapter's demands include fulfillment of basic necessities by the state and a better infrastructure given to survivors of abuse who need access to mental as well as physical care within a rehabilitative framework in order to adequately manage the long-term effects of the violence visited upon them.
In Karachi, the march is scheduled to take place at Frere Hall. In view of the prevailing coronavirus situation, organizers have emphasized standard operating procedures (SOPs), including wearing masks and maintaining a distance of six feet.
Each chapter of the Aurat March has its own manifesto with the Karachi chapter focusing on patriarchal violence; Lahore on addressing healthcare workers and women's health; and the Islamabad march is dedicated to the crisis of care.
The Karachi chapter's demands include an "end to gender-based violence by patriarchal forces as well as state-backed violence targeting activists, religious groups and communities and effective and transparent investigation of gender-based crimes and fair and expeditious trials".
Concerns about other health issues are also raised in the document, including, educational programs and training aiming to stop stigmatization and shame associated with gendered bodies, breast cancer, reproductive health, the gender pain gap, more gender sensitized medico-legal practitioners, charging for forensic services (including from rape victims), HIV, access to free medicines, rights of PWDs, implementation of the Transgender Act 2018, access to clean water and toilets, especially to avoid contraction of Covid-19, healthcare for female prisoners, and drug addicts and users, an end to underage marriage, and several other issues associated with the health sector.