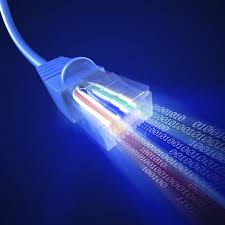 Internet Infrastructure of Pakistan to be Boosted by 96 TB/S
LAHORE MIRROR (Monitoring Report)–PEACE Cable and Cybernet Pakistan are set to add 96 Tb/s to Pakistan's overall internet infrastructure.
This landmark agreement, inked on April 16, 2019 at Capacity North Africa in Cairo, follows a Memorandum of Understanding (MoU) signed by both parties in 2018.
Pakistan & East Africa Connecting Europe (PEACE) is 12,000 km long, privately owned cable system that provides an open, flexible and carrier-neutral service for its customers. PEACE is targeted for completion in 2020.
The system design will adopt the latest 200G technology and WSS technology, which provides the capability to transmit over 16 Tb/s per fiber pair, servicing growing regional capacity needs. The PEACE cable system with landings in Pakistan, Djibouti, Egypt, Kenya and France – in the first phase – will connect the three most populated continents in the world, providing critical interconnection to the economic corridors of Asia, Europe, and Africa. Cybernet, amongst Pakistan's oldest ISPs, is the PEACE Cable Landing Station Partner in Pakistan and will be deploying PEACE Pakistan Cable Landing Station (CLS) and managing its operations.
Speaking on the occasion, Danish Lakhani, CEO of Cybernet Pakistan, said PEACE is the only cable system that originates in Pakistan and connects three continents and elevates the country's strategic standing in the global connectivity race. "This ultrahigh capacity cable will boost available bandwidth to meet current and future requirements of Pakistan and that of neighboring countries. With its ultra-low latency design, the cable will cut down transit time between Pakistan and France to under 90 milliseconds – dramatically improving the response time of internet-based applications and the experience of our users."
With over 22 years of experience in building and running countrywide fiber broadband operations, IP/MPLS networks and cloud optimized data centers, Cybernet will be building Pakistan's first carrier-neutral cable landing station for PEACE cable by Q1, 2020 in Karachi. The design and selection of the CLS site in Karachi is in line with Cybernet's objectives to bring carrier neutrality and much needed redundancy to Pakistan's internet backbone. Cybernet will provide capacity to local and global carriers, CDNs, content providers and others at easily accessible interconnect points across Pakistan – enabling true carrier neutrality and open access.
SOURCE: THE EXPRESS TRIBUNE