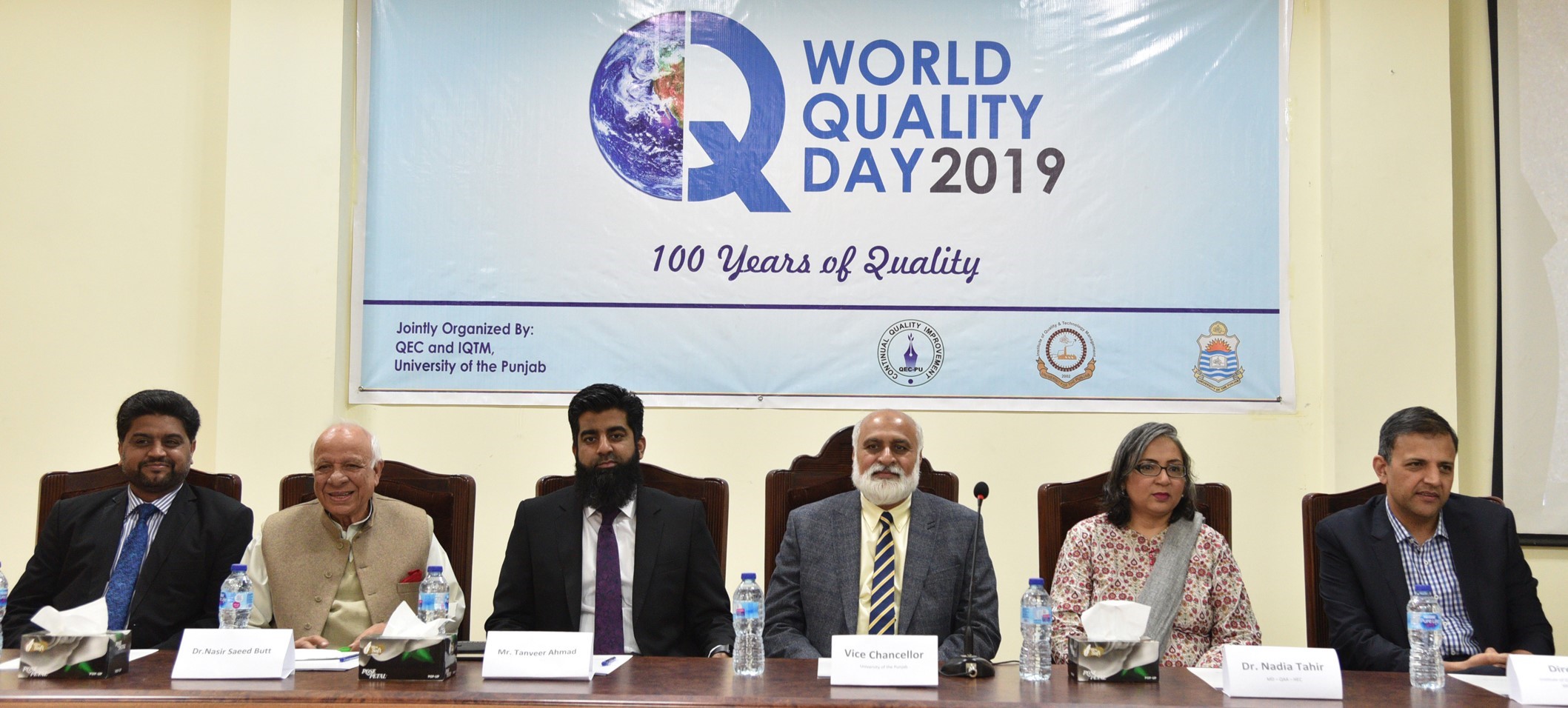 Institutions Compromising Quality Collapse, PU VC Tells Seminar
LAHORE– Punjab University Vice Chancellor Prof Niaz Ahmad has said that the institutions which compromise over quality get destroyed and replaced by other institutions.
He was addressing a seminar on World Quality Day in connection with 100 years of quality organized by Institute of Quality and Technology Management and Quality Enhancement Cell here on Thursday.
Higher Education Commission Quality Assurance Agency Managing Director Dr Nadia Tahir, Dr Nasir Saeed, IQTM Director Dr Usman Awan, Director Quality Enhancement Cell Prof Dr Muhammad Shafiq, faculty members and a large number of students were present on the occasion.
Addressing the seminar, PU VC Prof Niaz Ahmad said that we must spend maximum money on higher education to bring socio-economic change. He said that he introduced the concept of quality in 2001 at university level and for the first time established Institute of Quality and Technology Management.
He said that IQTM was established to provide quality in services and manufacturing sectors. He said that 70 percent of our economy was based on services sector and therefore we must produce quality graduates. He said that as the raw material of good standard produced quality products, a commission should be established at elementary and secondary levels to produce good students, leading to the production of quality graduates.
Prof Niaz Ahmad asked the students to form group, identify problems in their relevant field, find solution and convert it into business activity. He said that the university would fund all such projects.
He urged the students to adopt high moral values and quality must reflect in their personality. Dr Nadia Tahir said that there was need to create culture and consciousness of quality.
She said that HEC Quality Assurance Agency made efforts to ensure standards of quality of higher education in universities. She said that Quality Enhancement Cells had been established at the universities for improving standard of higher education.
Dr Nasir Saeed said that quality of life of common man must be improved and environment of happiness should be provided to everyone.
Dr Usman Awan said that IQTM was focusing on improving standards in services and production sector. He said that IQTM was moving forward to contribute to socio-economic development of country. He thanked PU VC for providing quality faculty members to IQTM on merit.— PRESS RELEASE