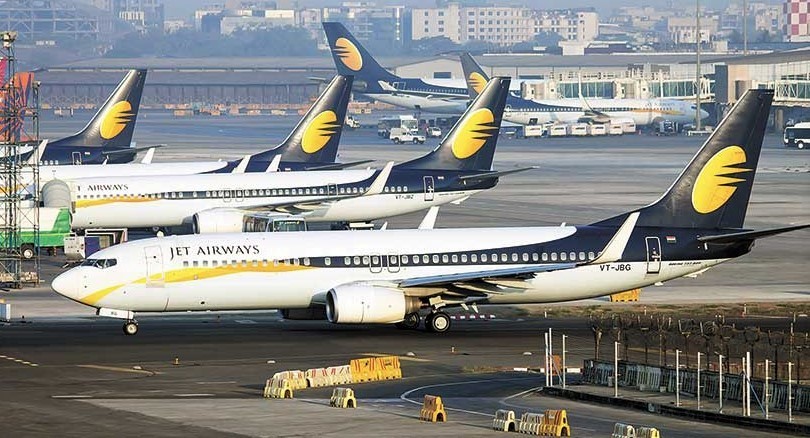 India's Jet Airways Grounds Six More Planes Amid Growing Crisis
LAHORE MIRROR (Monitoring Desk)– Jet Airways, an Indian airline, has grounded another six aircraft amid a deepening financial crunch.
The beleaguered company has been struggling under the weight of debts totalling more than than $1bn (£750m).
The airline has delayed payments to banks, employees, suppliers and even aircraft lessors.
A pilots' organisation warned that its members would stop flying for the carrier if their salaries were not paid by the end of March.
In a letter to the National Stock Exchange of India on Tuesday, company secretary Kuldeep Sharma said: "An additional six aircraft have been grounded due to non-payment of amounts outstanding to lessors under their respective lease agreements."
He said the airline was trying to "improve its liquidity".
Jet Airways has been forced to ground planes due to its financial woes.
It has more than 100 aircraft in its fleet, and flies on 600 domestic and 380 international routes. But at least 50 of those aircraft have been grounded.
Industry regulator the Directorate General of Civil Aviation has asked the airline to refund passengers, or provide alternatives, if their flights are cancelled.
On Tuesday, the National Aviators Guild warned the Jet Airways management that members would stop flying for the airline from 1 April if their salaries were not paid.
They also demanded the implementation of a "resolution plan" for the airline's financial issues which was announced a few weeks ago.
"If there is no proper clarity on the resolution process and salary payments, by 31 March, we will stop flying from 1 April," the guild said.
Pilots and other senior airline staff have not been getting their full salaries since December.
Meanwhile, the Press Trust of India reported that the airline's aircraft maintenance engineers' union had written to the Indian aviation regulator to say that three months of salary was overdue, and flight safety was "at risk".
"This has been hard for engineers to meet their own financial commitments, adversely affecting their psychological condition," Jet Aircraft Engineers Welfare Association (JAMEWA) said in a statement.
SOURCE: BBC NEWS