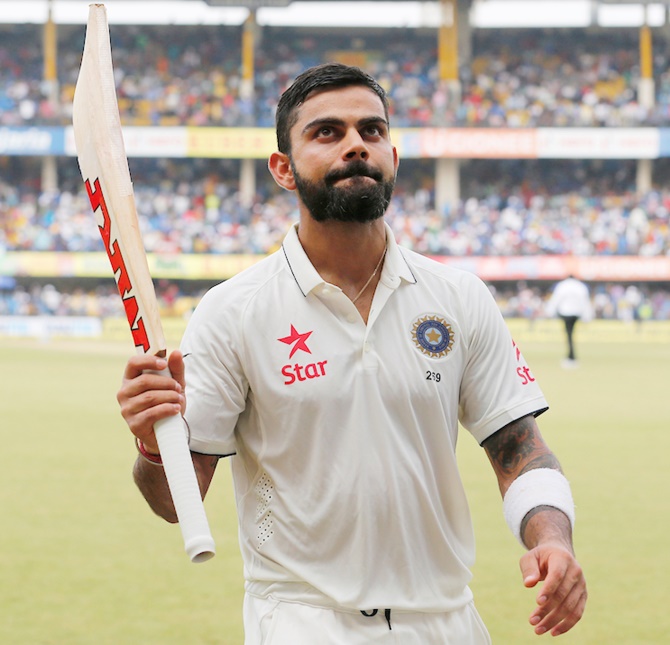 Indian cricketer Virat Kohli is now world number one Test batsman
Beats Australian cricketer Steve Smith
LAHORE MIRROR (Monitoring Desk)– Indian cricket team skipper Virat Kohli has become the number one Test batsman in the world after he scored 22dn century in India's 31-run defeat by England at Edgbaston.
The India captain, who has moved to the top of the International Cricket Council rankings, scored 149 not out in the first innings and 51 in the second.
Kohli, who has scored 22 tons in 67 matches, said his first century in England does not matter after defeat on Saturday.
Kohli, 29, has ended former Australia skipper Steve Smith's 32-month reign as the top Test batsman.
Smith is currently facing a 12-month international ban for ball-tampering.
He is the first Indian to top the rankings since Sachin Tendulkar in June 2011.
Furthermore, England seamer James Anderson has retained his place at the top of the Test bowling rankings with four wickets in Birmingham.
ICC Test batting rankings
1- Virat Kohli (India) 934 points 2- Steve Smith (Australia) 929
3- Joe Root (England) 865
4- Kane Williamson (New Zealand) 847
5- David Warner (Australia) 820
6- Cheteshwar Pujara (India) 791
7- Dimuth Karunaratne (Sri Lanka) 754
8- Dinesh Chandimal (Sri Lanka) 733
9- Dean Elgar (South Africa) 724
1-. Aiden Markram (South Africa) 703