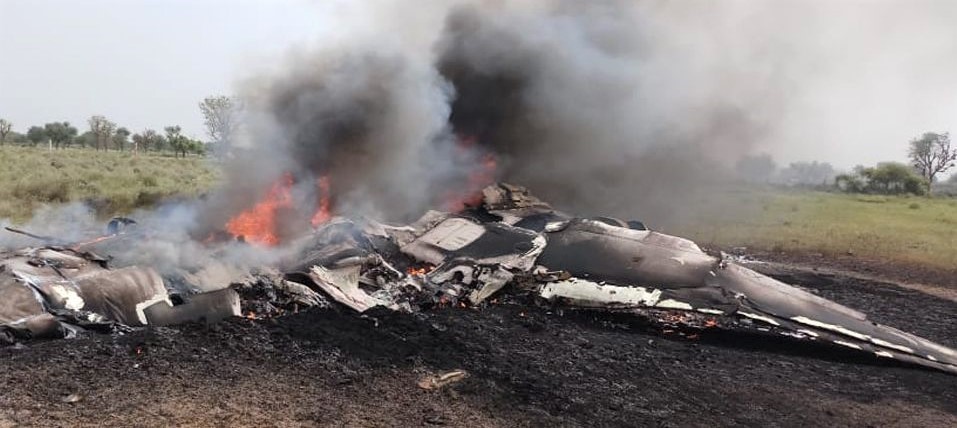 India: Another MiG-27 Fighter Jet Crashes In Rajasthan's Jodhpur
NEW DELHI– In yet another aircraft mishap for India, a MiG-27 UPG fighter jet of Indian Air Force (IAF) crashed in Sirohi city of Rajasthan on Sunday morning, Indian media reported.
NDTV reported the fighter jet was on a routine missing from Jodhpur which was crashed in Sirohi, about 180 kilometres away.
However, no clarification was made for survival of the pilot so far. Further details of the crash are still undisclosed.
On March 8, Indian Air Force (IAF)'s Soviet-era ground-attack aircraft MiG-21 had crashed in Rajasthan's Bikaner during a 'routine mission'.
According to Indian media reports, the plane that took off from Nal near Bikaner crashed after being hit by a bird, whereas the pilot ejected himself safely.
India has lost at least 8 war planes in the past one month, two of them were shot down by the Pakistan Air Force (PAF) in a recent engagement and a pilot Abhinandan was also taken into the custody.
On February 27, former Indian air force (IAF)'s official Ram Parkash had confirmed that India had lost two MiG 21 jets and three of its pilots.
He further said in his tweet that the morale of the IAF was down and out after the heavy loss.
SOURCE: ARY NEWS