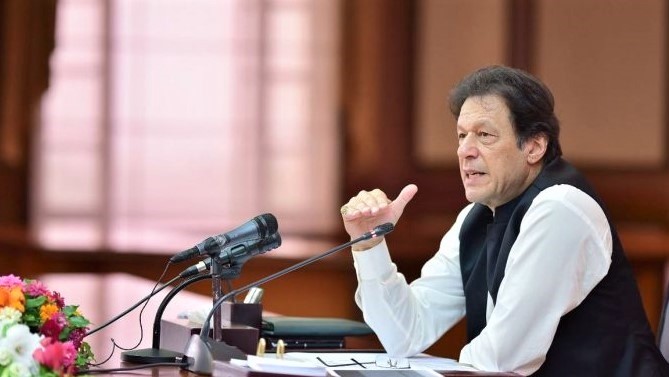 Imran Khan Says Pakistan Won't Need To Import Oil After Reserves Discovered Near Karachi
ISLAMABAD– Pakistan will not need to import oil after the discovery of reserves near Karachi's sea, Prime Minister Imran Khan has announced today.
"We are hopeful of finding large reserves of gas and oil in the sea near Karachi. The nation should pray for this and I will soon share good news regarding this." 
"God willing the reserves will be so large that we will not need to import any oil," the premier said while speaking to media in the federal capital.
'No blackmailing and NRO will be accepted'
Lambasting at the opposition, Imran Khan said, "If the opposition wants to create a hue and cry, we are ready to provide them with containers to protest at D-Chowk. The opposition is joining hands to hide personal theft."
"No blackmailing will work and nor will anyone be given the National Reconciliation Ordinance (NRO)," the premier reiterated.
"I presented a 40-year-old money trail in court," he said while adding that opposition leaders make faces when he enters the Parliament.
"A minute in Parliament costs the country Rs80,000 and all the opposition does on the floor is cry," he stated. "The opposition is not thinking about the nation at all. Other than talking about hiding corruption, opposition leaders do not raise any other issues on the floor of the House."
"In the past, Pakistan Peoples Party laundered billions of dollars through fake bank accounts. PPP Chairman Bilawal Bhutto Zardari is crying foul because he fears the National Accountability Bureau (NAB)," he added.
The premier continued, "Ayyan Ali and Bilawal's tickets were bought through the same fake bank accounts."
"Pakistan Muslim League-Nawaz's experienced government left a debt of Rs30,000 billion," he stated.
PM Imran further clarified,"NAB is neither under us nor did we recruit anyone in the accountability watchdog."
"Corruption will be curbed when big people are caught. Cases against those 'parties saving democracy' were not filed during our government. There is a loss of Rs12 billion in the Metro Bus project," he added.
The premier further said that if there are "different laws for the strong and the weak then the society will be weak".
'No law to send Nawaz abroad for medical treatment'
Speaking about former premier Nawaz Sharif's medical treatment, the premier stated, "The government is providing him with all facilities and he can seek treatment wherever he wishes within the country. Despite being in power for 30 years, Nawaz could not build a hospital where he can be treated."
"Nawaz made 30 factories from one factory but could not make a hospital," he added.  "There is no such law to send Nawaz abroad for medical treatment," he asserted.
"Should we also send the other 150,000 prisoners abroad for treatment?" he asked.
'US now praising Pakistan'
PM Imran further said, "Our foreign policy is better than in the last 30 years. America, which used to say 'do more', is now praising us."
"We received a message from US President Donald Trump, however, there has been no progress on it," he said.
"The results of our foreign policy are now showing. The US understands that Pakistan has an important role to play in the Afghan peace process," he added.
'Afghan Taliban wanted to meet but Kabul protested'
Speaking about relations with Afghanistan, the premier said, "The Afghan Taliban wanted to meet me but the government in Kabul protested so I did not meet them. The Afghan government wants to meet leaders of the group themselves and improve the situation."
"We want friendly relations with Afghanistan. If there is peace in Afghanistan then there will be peace in Pakistan," he added. "There should be an interim government in Afghanistan," PM Imran said.
Regarding ties with India, the premier said, "The threat from the neigbouring country is present till elections are held there. We are completely alert."
Collective programme on the cards to get rid poverty
The premier further announced that a collective programme is being launched from March 27 for the elimination of poverty.
Stating that the government wants to reduce the current account deficit, the premier said, "I expect the nation to support me." "China, Malaysia, Saudi Arabia and UAE are investing in Pakistan," he stated.
On the increase in gas prices, the premier said, "The hike in tariffs is owing to a short fall of gas and liquified natural gas (LNG). We buy 1,400 cubic feet of gas and sell it for Rs650."
"The reason for the energy crisis lies in faulty transmission lines. In previous eras, no work was done on transmission lines," the premier lamented.
PM Imran stated that there will be ups and downs before big changes take place in the country.
"All expenses of Bani Gala are paid for through my own pocket," he shared. "I paid Rs6 million myself to install security fences at Bani Gala," he added.
"I sold a gift to construct the road that leads to my Bani Gala resident," he further said. "I am also constructing the Zaman Park house through my own personal money," the prime minister maintained.
SOURCE: GEO NEWS AND AGENCIES