LAHORE– Inspector General of Punjab Police Rao Sardar Ali Khan has said that the safe recovery of abducted 14-month-old child of an Overseas Pakistani is a plausible achievement of Punjab Police. 
He said that in other cases like this, crackdown on kidnappers' overseas contacts and organized network should be intensified.
Rao Sardar Ali Khan directed that RPOs and DPOs should take concrete steps to arrest the culprits involved in such cases and organized groups having their links abroad.
IG Punjab said that Overseas Pakistanis are our precious assets, protection of their property and life is top priority of Punjab Police.  He directed the RPOs and DPOs to ensure all possible measures under personal supervision for protection of lives, their families and property of the Overseas Pakistanis.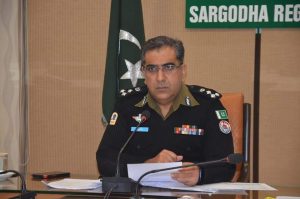 He issued these instructions to the officers during a video link meeting of Sargodha region at the Central Police Office today.
The meeting reviewed the recovery of a 14-month-old child who was abducted during a dacoity in Khushab and the arrest of a dangerous gang.  RPO Sargodha and DPO Khushab briefed IG Punjab about all the details of the high profile case.
The kidnappers kidnapped a 14-month-old baby boy during a dacoity and demanded a ransom of 100 million rupees from the baby's parents based in South Africa.  Khushab police traced the accused and arrested them from Attok.
The Punjab Chief Minister and IG Punjab took notice of the incident and directed for safe recovery of the child.
IG Punjab commended the performance of RPO Sargodha, DPO Khushab and the team for rescuing the child safely within 48 hours and announced to give certificates of appreciation and cash prizes to the supervisory officers and the team for their excellent performance.
Rao Sardar Ali Khan directed that the investigation into all aspects of the case should be completed as soon as possible and all the facilitators of the incident should be brought to book so that there is no gap left in complete elimination of the accused network.
The RPO Sargodha and DPO Khushab participated in the meeting through video link.— HANDOUT