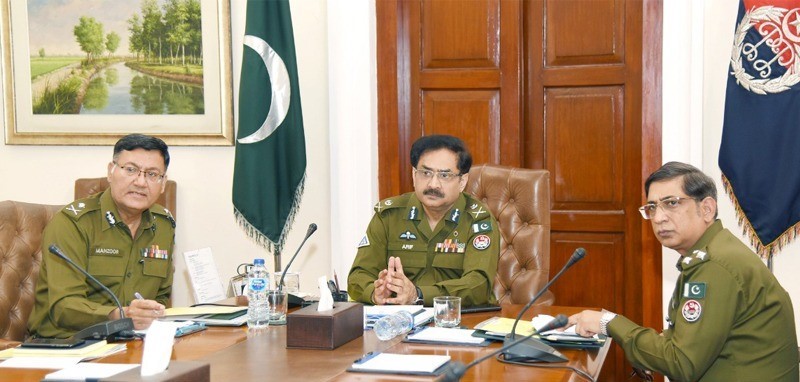 IGP Arif Nawaz Reviews Performance of Punjab Highways Patrol
Punjab forest minister calls on the provincial police chief at the Central Police Office
LAHORE– The Punjab Highways Patrol officers and officials should be careful during duty about comfort of citizens and the process of checking and searching documents of motorcycles and vehicles without any reason should be stopped, Inspector General of Punjab Police Captain (retired) Arif Nawaz Khan said on Saturday.
There should be no delay in taking action against vehicles bearing no number plates, unauthorized number plates and fake number plates, he maintained.
He said the protection of lives and properties of people traveling on roads is the basic job of PHP, therefore, strict action should be taken against the violators and also ensure steps taken for facilitation of noble and peaceful citizens.
He said the PHP police with the help of local police should also ensure special and effective patrolling during month of Ramadan and also increase duty hours of patrolling especially during prayers of Fajar and Traweeh near mosques situated on highways for smooth traffic.
He further added a new android App should be made with the cooperation of Punjab Information Technology Board in order to decrease in incidents of robbery and murders and also limit movement of criminals.
"This App should have complete data of criminals so that PHP Police with the help of local police may put the anti social elements behind the bars."
Those views were expressed by the IG Punjab while chairing a meeting for assessing the progress of PHP at the Central Police Office.
Additional IG PHP Manzoor Sarwar and DIG PHP Masood Ul Hassan were present on this occasion.
During briefing, Addl IG PHP Manzoor Sarwar informed the IG Punjab that a considerable decrease in accidents on highways have been recorded due to timely and efficient actions of PHP.
The PHP officials are  taking  actions against drivers for traffic rules violations besides over speeding and also has registered hundreds of cases against violators during last four months.
He moreover said due to effective patrolling the crime rate on highways has considerably declined.
Upon which, the IG Punjab directed that officers and officials should take legal action against violators of law and criminals and also refer the case to local police for further proceedings without any delay. If the local police is reluctant to take action then it's report should be sent to Addl IG PHP and also control room immediately so that action may be taken against such SHOs.
IGP said that an exemplary punishment should be given to the liable officers and officials after complete inquiry.
He further directed that senior officers of PHP should carve out a schedule of their visits in ranges on monthly basis and also every possible step for facility of officials by keeping a close coordination with them.
IG Punjab directed to officers that families of martyrs of PHP should be given Ramzan package whereas senior officers should visit homes of these martyrs to share their happiness at the event of Eid.
Punjab forest minister Sibtain Khan calls on IGP
IG Arif Nawaz Khan said that protection of wealth and lives of people by maintaining supremacy of law is top priority of Punjab Police and steps are being taken to use information technology efficiently for provision of public facility.
He further said stern accountability system is established in Punjab Police for reward and punishment. Good officers and officials are encouraged and strict departmental actions are being taken under internal accountability branch against incompetent, corrupt and irresponsible officers and officials.
Those views were expressed by the IG Punjab during a meeting with provincial minister for forest, wildlife and fisheries Sibtain Khan at central police office. Law and order situation and matters of mutual interests were exchanged in the meeting.
The IG Punjab told the provincial minister that SP complaints are engaged to solve other problems of citizens except solving complaints of complaint service 8787.
Police officers and officials have also been made bound to adopt courteous and lenient behavior with the public.
Sibtain Khan while acknowledging the police services said that provision of timely facilities to public with the use of information technology in accordance with community policing is appreciable and more than 13 services under one roof are being provided to people at all police Khidmat Marakiz in all districts of the province by which precious time is being saved.
People living in other district and big cities like Lahore don't need now to move to their home town for these services and people also do not need any favor of public representatives regarding police services which reflects a positive change, the minister added.— PRESS RELEASE