IGP Arif Nawaz Boosts Morale Of Multan, D G Khan Regions Police In His Field Visits
RPO Multan Waseem Ahmad Khan and RPO Dera Ghazi Khan Umer Sheikh led their forces in police courts
MULTAN/ D G KHAN– Inspector General of Punjab Police Captain (retired) Arif Nawaz Khan has said he is trying at every level for an increase in perks of those officials and officers who put their lives in danger and serve under the scorching heat of the sun.
Being chief of the Punjab Police it is his duty to take responsibility of welfare of force, he added.
"I know if this well-trained force is given relief with respect to their financial constraints their performance may be enhanced manifold."
The IGP further said the system of punishment and reward in Punjab Police is very stern, every year hundreds of officers and officials are given punishments under accountability system who transgresses their powers and authority, and I also advocate Punjab Police in their welfare issues on every forum.
He said that this uniform is a blessing from Allah and I consider every constable of Police fortunate who has been selected to protect the public.
He said that police martyrs have augmented the prestige and respect of Police department and we are proud to be a part of this police force which has been watered by the blood of 1400 martyrs.
"I assure you that the sacrifices of these martyrs will not go wasted."
He moreover said he couldn't leave all families and heirs of those officials and officers who embraced martyrdom or got injured for protecting public and as a father of this department he was always with the families of martyrs and will solve their problems on priority basis.
Those views were expressed by IGP while addressing the police gathering at Multan and Dera Ghazi Khan Khan on Wednesday.
RPO Multan Waseem Ahmad Khan, CPO Multan Imran Mehmood, DPO Lodhran Jameel Zafar, DPO Khanewal Asad Sarfraz, DPO Vehari Muhammad Najeeb Bagvi, SSP special Branch Shareef Zafar, SP Patrolling Rana Muhammad Masoom, SP Cant Zunera  Azfar, SP Sadar  Rabnawaz Ahmad, CTO Multan Huma Naseeb were present.
RPO DG Khan RPO Umer Sheikh, DPO DG Khan Atif  Nazeer, DPO Muzaffargarh Ghazi Salahuddin, DPO Laya Rana Tahir Ul Rehman, DPO Rajan Pur Haroon Ul Rasheed and Regional Officer CTD Imran Asghar and others represented D G Khan police during IGP's visit.
Afterwards, the IG Punjab presided over a crime meeting at RPO office in which RPO and other officers briefed him about crime situation and also steps taken by police in this regard.
On this occasion the IG issued directions to officers regarding crime control, saying there is no way for us to earn respect other than by promoting public friendly policing and serving humanity nor we have any other agenda. He said senior police officers should ensure that citizen who comes to police stations should be dealt courteously and their problems should be resolved on merit without any delay.
Khan said honesty, diligence, commitment and dutifulness are our identity and any negligence, carelessness and trespassing from the authority shall not be tolerated at all.
He said that there will be no place in the department who found involved with land mafia and protection of such elements.
He directed officers that issues of subordinates should also be addressed and punishments should not be given on minor mistakes.
He further said that every officer should ensure that the alleged officials are awarded punishment after proper and transparent inquiry and that the officer should be given a fair chance for his stance in defence.
"If he is proved wrong after inquiry, there should be no delay in punishment."
Furthermore, the IGP met with the families of martyrs and assured to resolve their problems.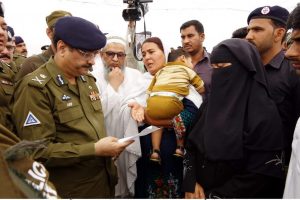 IGP meets parliamentarians from Multan and D G Khan
During the IG Punjab's visits to Multan and D G Khan, parliamentarians from Multan, Lodhran, Vehari and Mailsi met him.
They included Special Assistant to CM Punjab Javed Akhtar Ansari, Provincial Minister Dr. Muhamad Akhtar Malik, Muhamad Saleem Akhtar Labar, Mian Tariq Abdullah, Muhamad Qasim Langah, Mian Muhamad Shafiq Arian, Nazeer Ahmad Khan Baloch, Muhamad Ijaz Hussain and Aurangzeb Khan Khichi while at DG khan he met with Member Provincial Assembly Muhamad Haneef Pitafi and Ahmad Ali Dareshak.
During the meeting, police chief said for promoting public friendly policing and ensuring law and order I am paying visits to all regions of Punjab.
He said steps are being taken for police reforms and IT-based system is being introduced by which no favour will be required to citizen regarding police services and merit will be observed with the help of online system which is monitored by me.
He said suggestions of all stakeholders with respect to police reforms will be welcomed and the dream of crime fee Punjab will be materialized soon with the cooperation of the public.— PRESS RELEASE