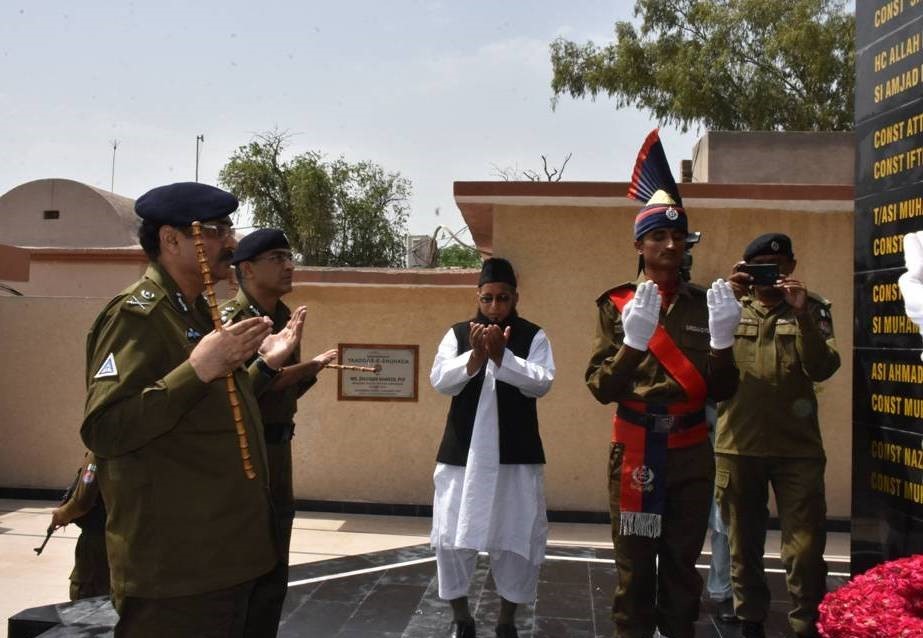 SARGODHA– Inspector General of Punjab Police Captain (retired) Arif Nawaz Khan has said the Punjab Police is known for its bravery, honesty and professionalism.
Without a trace of doubt, officials and officers of the Punjab Police have sacrificed their lives in the line of duty while brave cops are still sacrificing their lives while protecting lives and wealth of citizens.
He further said to serve the nation and country we have to perform as there is no other option, adding only good performers will be part of his team while anyone involved in corruption, negligence and carelessness will be thrown out of Punjab Police.
The IGP expressed those views while addressing police court at Police Lines Sargodha on Thursday.
RPO Sargodha Syed Khurram Ali, DPO Sargodha Hassan Mushtaq Sukhera, DPO Khushab Shoaib Mehmood, DPO Mianwali Mumtaz Ahmad Dev, DPO Bhakkar Shaista Nadeem were present.
Addressing Police Darbar, Khan said: "The martyrs are our pride and I also salute those police officials who got injured or facing a lifetime disability upholding the prestige of department, these brave men are pride of the entire nation.
He said police officials matters related to the salaries, welfare, posting, health and education are my responsibility and I will advocate for you at every platform, you should only focus on your professional duty to prove yourself an asset for the department.
He further said all police officials should maintain their service record as meager punishments also affects the promotion.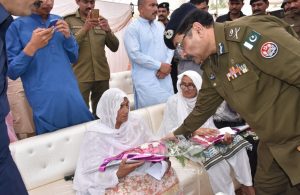 Addressing the police officers, the police chief said the post you hold is a special blessing of ALLAH Almighty so it is your duty to ensure before punishing any police official that he was thoroughly heard and the matter was inquired meritoriously.
He further said I am hopeful that police officers will be considerate towards their subordinates and subordinates will also perform their duties with a sense of responsibility giving no opportunity of complain to their seniors.
He emphasized that it is our responsibility to perform our duties with honesty and hard work and ALLAH will give us its reward. At this occasion IGP also presented flowers to the families of police martyrs.
The IG made it clear that police officials and officers having links or supporting the land grabbers will be dealt with iron hands and no lenience will be shown in this regard as the department is adopting a zero tolerance policy regarding the supporters of criminal elements and land grabbers in police force.
He also said death in police custody will not be tolerated and a stern and immediate action will be taken against the person responsible for it.
He further said investigation of arrested persons should be carried out on scientific basis without any torture and special campaign against social evils especially drug peddlers should be started across Punjab.
Later, the IGP visited the Regional Police Office Sargodha where he presided a high level meeting of all DPOs and other senior officers of Sargodha region.
RPO Sargodha Syed Khurram Ali briefed the IGP about crime situation and security arrangements, performance of Khidmat Marakaz, Front Desk, and Complaint Cell.
The IGP issued further directions regarding the special campaign to arrest proclaimed offenders, aerial firing and kite flying.
He also directed the police officers to solve under investigation matters on priority basis, arrest proclaimed offenders and devise an effective policy to avoid the incidents of motorcycle and cattle theft.
At the end of meeting RPO Sargodha Syed Khurram Ali presented a shield to IGP Arif Nawaz Khan.
During his visit to Sargodha, the IGP also met National & Provincial Assembly members from Sargodha region including Member National Assembly Amir Sultan Cheema, Member Provincial Assembly Faisal Farooq Cheema and Member Provincial Assembly Asghar Khan Lahri.
Parliamentarians congratulated the IGP on assuming the charge and shared their suggestions to maintain law and order situation in Sargodha region.
Talking to parliamentarians, the IGP said his only is objective to eradicate crime from Sargodha region with the help of all stakeholders and their positive suggestions in this regard will be implemented.
He further said public is strength of police so every official while performing his duty should give the prime importance to the convenience of public.
Additional IG Establishment addresses newly-promoted police inspectors
Additional IG Establishment Punjab Captain (retired) Ahmad Lateef said promotion of Police officers and officials is continuing without any interruption.
Whereas the promoted officers are being given postings of their own choice and facility without any pressure or favour so that they may provide services to the public with full concentration and mental satisfaction, he added.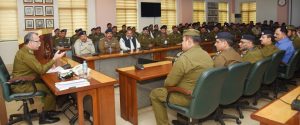 Lateef further said that respect and prestige get increased besides professional responsibilities after departmental promotion and I hope that promoted officers and officials will remember the sanctity of uniform and serve the public in true sense.
He said the promoted officers should play a pivotal role in the eradication of criminals and anti-social elements.
The Additional IG was addressing 104 inspectors who got promotion from sub-inspectors to ranks of inspectors.
He issued orders after hearing problems of inspectors coming from all ranges across the province.
He emphasized upon promoted officers to use their authority and power given by Allah Almighty for the welfare of public so that no stone should be unturned for protection of lives and properties of people.
He further added all field officers and officials should deal with the public in such a courteous and polite way that they don't feel difficulty or trouble for coming to police stations.
On this occasion, the promoted inspectors thanked the Additional IG Establishment Punjab and vowed that they will fulfill their official duties with full hard work, honesty and diligence and also ensure the provision of best service delivery in accordance with smart and community policing to the public.– PRESS RELEASE