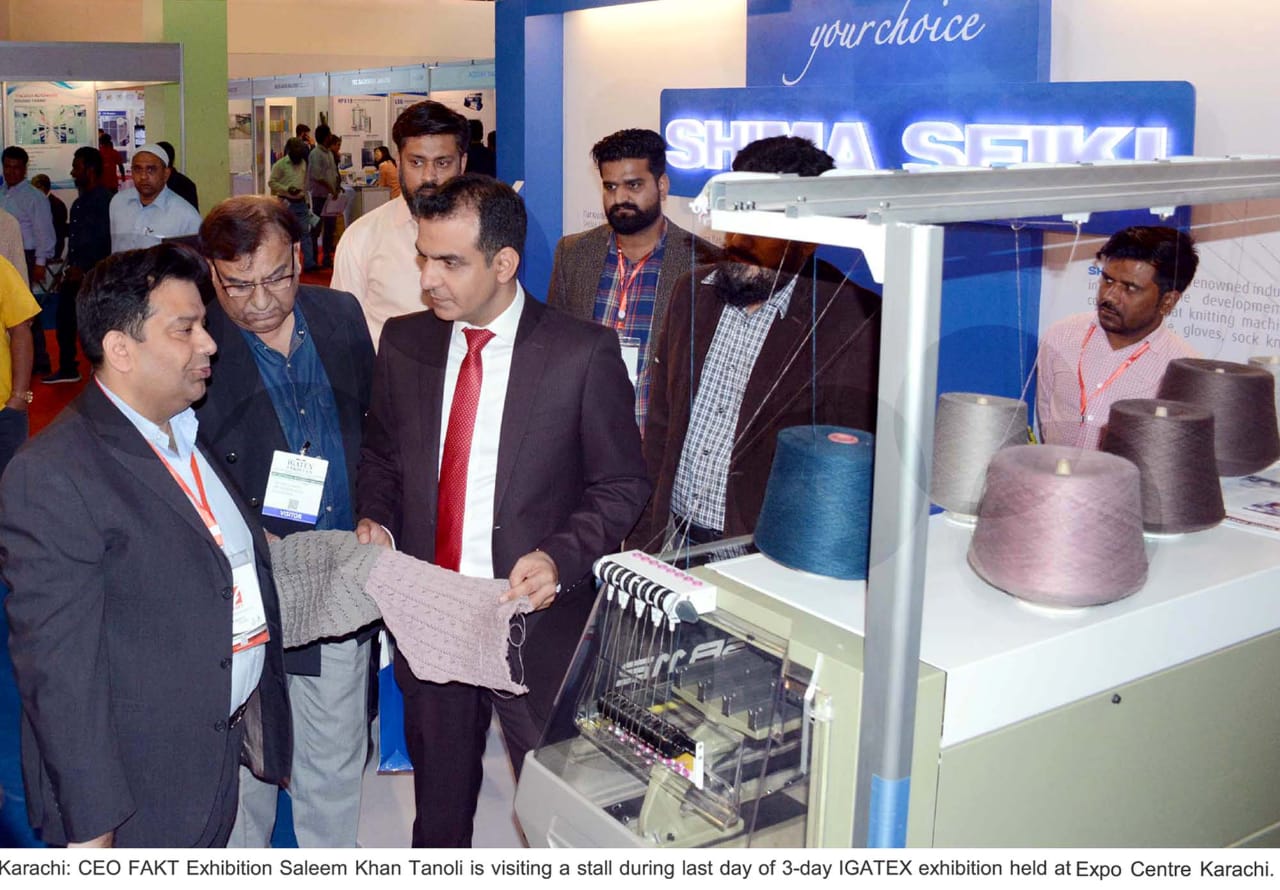 IGATEX 2019 Pakistan Concludes, Attracts Business Deals Worth Billions
As many 15,000 trade visits took place during the three-day exhibition
KARACHI– Three-day textile and garments exhibition IGATEX Pakistan successfully ended on Thursday at the Expo Centre Karachi, attracting over 15,000 quality trade visitors and closing billions of rupees deals linking most modern technology and machinery.
More than 500 companies from 37 countries participated and remained there despite tension between Pakistan and India showing their commitment towards peace and stability.
Over 116 exhibitors from China and 92 from Italy alone attended this over-crowded event. Other countries were France, Belgium, Austria, Korea, United Kingdom, United States of America, Brazil, Thailand and many more.
IGATEX Pakistan is a pioneer exhibition being organized by the FAKT Exhibition since 2002. It was the 12th edition of this mega event.

Sharing details about expo's outcome, CEO FAKT Exhibitions Saleem Khan Tanoli companies exhibited their latest machinery and technology used in spinning, finishing, weaving, dying and garments which attracted large number of visitors. Majority of visitors showed their interest in European technology.
Deals worth billions of rupees were matured and large number of inquired developed. All exhibitors were very happy and more than 350 foreigners remained present in expo despite current situation which was very positive message, he said.
To compete with neighboring and other countries of the world, we need most modern technology. We have to enhance our exports following vision of present government. Best equipment and technology is necessarily required to produce better products. Textile is like backbone of Pakistan economy. It has key role in more than 60 percent of exports, he added.
Saleem Khan Tanoli said such exhibitions provide a platform to all stakeholders to learn from each other and enhance their businesses. These events are very fruitful for the national economy as well and will improve our image internationally. Exhibitions also provide temporary and permanent jobs, he concluded.
Chairman Nazar & Co Abbas Mooraj stressed the need to manufacture machinery used in textile sector locally to decrease dependency on other nations.