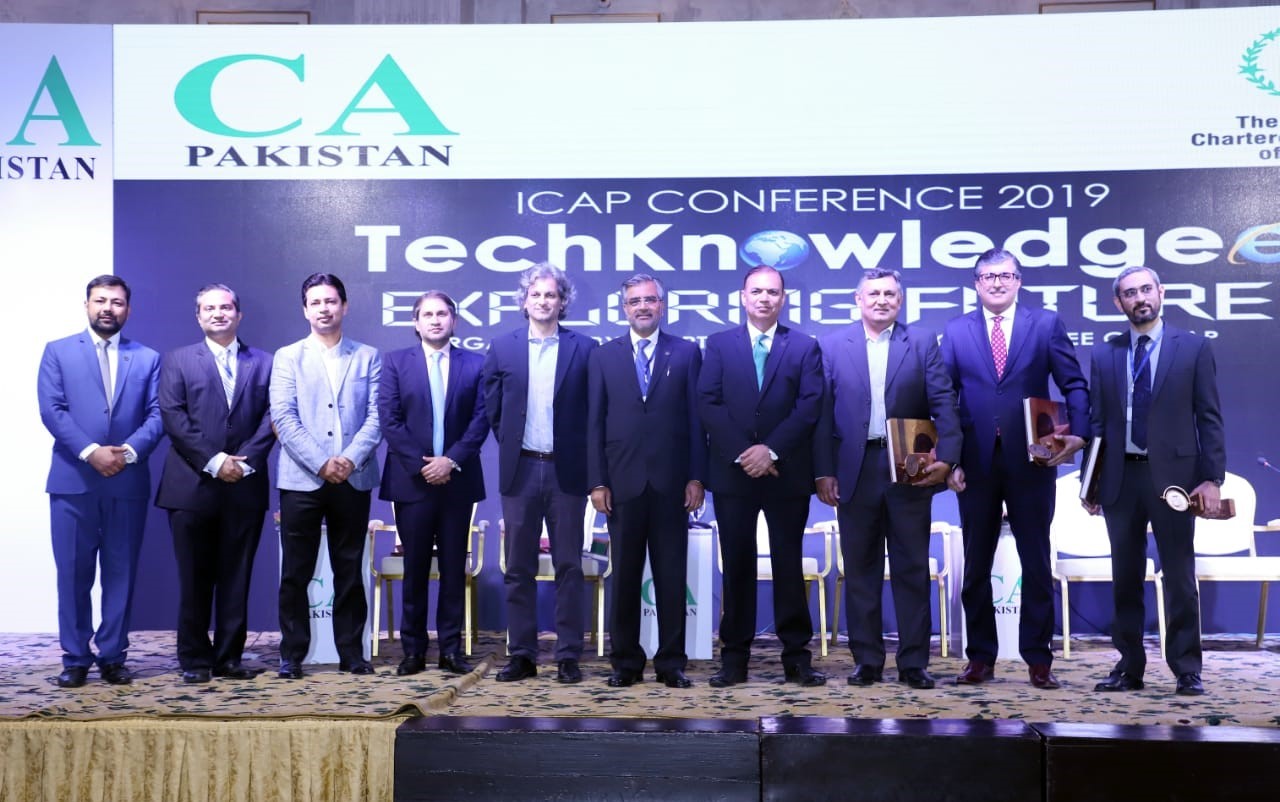 ICAP's Tech Conference: Future And Integration With Technological Disruptions Explored
More than 400 professionals from the fraternity of finance and business attended the moot
LAHORE– The Institute of Chartered Accountants of Pakistan (ICAP) organized ICAP Conference 2019 in Lahore at a local hotel on Monday.
The conference TechKnowledgee – Exploring Future was attended by more than 400 professionals from the fraternity of finance and business. 
The ICAP Conference has emerged as a strong platform where professionals in business, public sector and industry meet to explore, confront, and thrash out solutions to meet the challenges being faced by businesses.
Jafar Husain, President – ICAP, in his address congratulated the Northern Regional Committee for having arranged such a spectacular event. He said that ICAP's professionals constitute a vital part of the Industry and as such are driving businesses up the success ladder.
Thus, it is ICAP's responsibility to cater to their needs and expectations by organizing events such as this conference to develop one's technical knowledge, expertise, and technical proficiency.
JehanZeb Amin, Chairman of the Northern Regional Committee that organized the event, in his introductory remarks stated that he was pleased to see such an overwhelming turnout.
The aim of the conference is to discuss the six key elements which are driving the evolution of the current technological era, namely; The Digital Revolution, Industry 4.0, Block Chain, Robotics Process Automation, Data Analytics, Artificial Intelligence and The Internet of Things, and how they are impacting businesses.
Paul Wilson, Technology Advisor, EY Ford Rhodes, in his high level dialogue on "How is the Changing Digital landscape impacting the businesses," said that he felt that those industries' or organizations' which do not adopt and deploy digital practices will become obsolete in the blink of an eye. If you wish to be successful, then digital will pave the way to your success.
The convenience of digital systems and mobility is now dictating business dealings. Over the past five years, the manner in which the world does businesses has changed fundamentally. Pakistan needs to digitize everything for improved competitive position.
Zain Ansari, Lead, Technology Consulting & Cyber Risk practices, Deloitte Pakistan, in his talk on Industry 4.0 began with; computers are connected and communicate with one another to ultimately make decisions without human involvement, that is what Industry 4.0 is.
The Industry 4.0 is an advanced version of the same in which manufacturing technologies are evolving through data exchange and automation. It includes; Cyber Physical Systems, Cloud Computing, The Internet of Things, and Cognitive Computing.
Nadeem Malik, Director, Oracle in his speech on Digital Disruptions discussed the many ways in which the advent of digital technology has transformed the way businesses used to be conducted.
He spoke about how more and more companies have started opting for a stronger presence online and estimated that e-commerce was the next big thing, which would drive the business.
Digital Finance Electronic Payments and Other New Technologies in Financial Inclusion in Pakistan was discussed by the CEO of FINCA Microfinance Bank Ltd, Mudassar Aqill in which he discussed the impact of electronic payments on the way accounts are being managed currently.
A panel discussion was conducted by Asad Feroze, Vice Chairman of the Conference Organizing Committee of the Northern Regional Committee of ICAP.
The topic of the Panel Discussion was Impact on Digital Revolution on Businesses, in which the panelists shed light on the prevailing digital disruptions taking place, and how it is impacting different industries.
The third session began with a group activity by Asad Ismail –Executive Director, Deloitte YousufAdil.
The activity was followed by a speech on Robotics & Artificial Intelligence: (Machine Learning) Unlocking the Automation Prize in Finance by Saad Kaliya in which he spoke about how the profession of accountancy is being affected by technologies utilizing artificial intelligence and what role accountants can play in helping organizations ease into this era of digital disruptions.
The topic of Technology Strategy of the Government was covered by Azfar Manzoor –Chairman, Punjab Information Technology Board. He stressed on the importance of moving ahead of the times by adopting the latest technological trends, especially at a government level.
He further stated that strategy is the core area which is being driven by technology, and ensuring that Pakistan progresses further and tries to catch up to the rest of the world.
Abbas Ali Khan – Managing Director, Abacus Consulting, shared his experience on technological disruptions. This was followed by a discussion on Big Data, Analytics, Cloud Computing & IOT: Enabling Real-Time Decision Making in Your Business, which was conducted by Ali Qamar – Partner, EY Ford Rhodes.
In his vote of thanks Iftikhar Taj – Vice President ICAP thanked the audience for a successful conference and lauded ICAP's efforts in bringing forward initiatives and programs which are becoming a consistent source of development for its members and other professionals, providing valuable insights and also reflecting on the values and direction of the Institute as a premier accounting body.
He talked about how the role of the CFO and Accountant is evolving and they are now considered as not only a finance resource in an organization, rather their role is now looked at as organizational transformation officers, and they play an important role in setting the direction for companies.— PRESS RELEASE