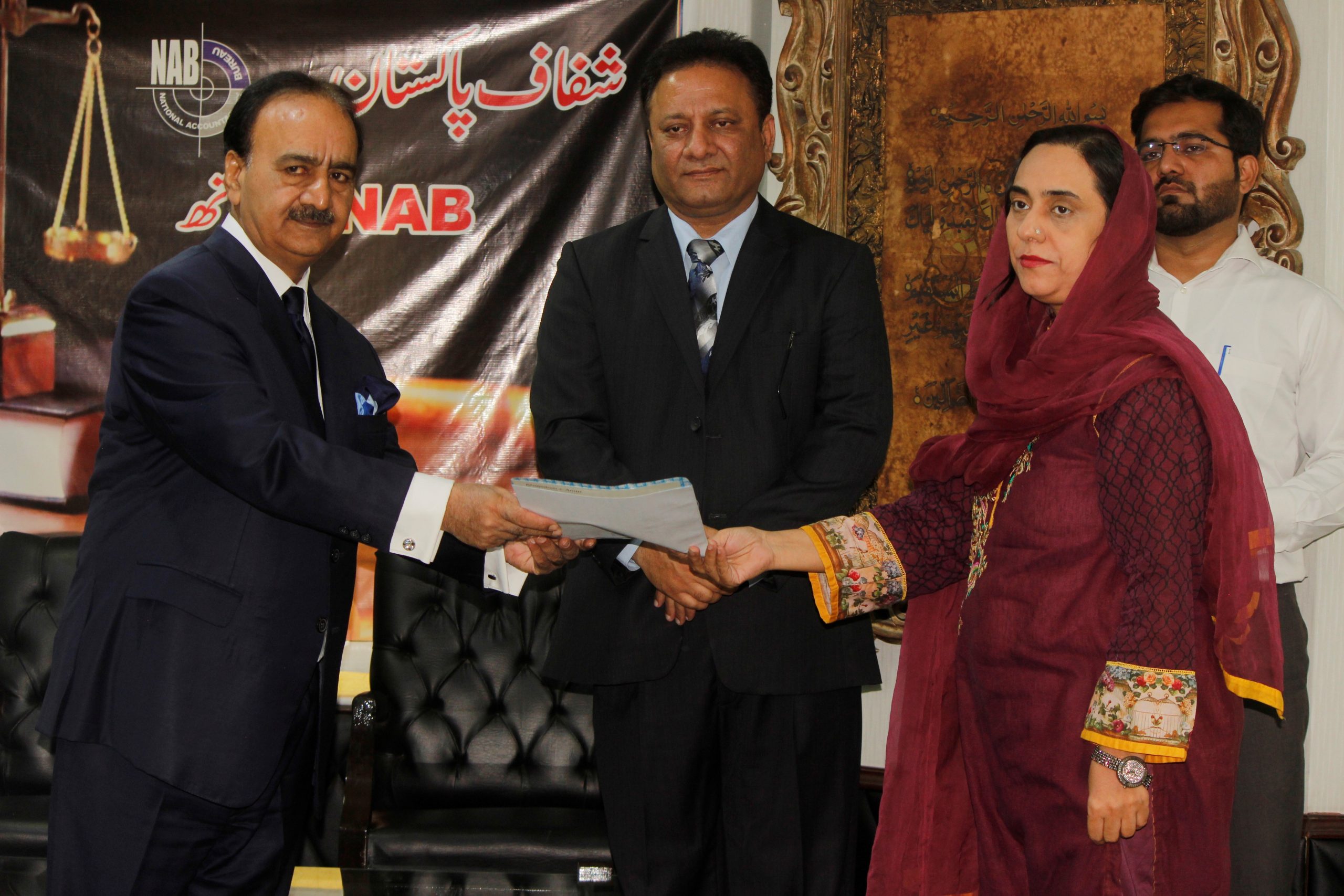 How Khayaban-e-Ameen Housing Society Victims Get Sigh Of Relief, Here's The Story
By Our Web Reporter
LAHORE– Where an upsurge in land frauds in the provincial capital and Punjab as a whole is creating fears in the minds of citizens who seem losing their investments, the premier accountability watchdog looks active side by side to provide the victims a major relief.
After extending relief to the victims of LDA Avenue Phase I, the National Accountability Bureau (NAB) has now come to the rescue of the land owners of Khayaban-e-Ameen Housing Society.
On Friday, the National Accountability Bureau (NAB) Lahore organized another ceremony to give away Possession Letters (PLs) worth millions of rupees to 250 affectees.
Deputy Prosecutor General Accountability (DPGA), Chaudhary Khaleeq-uz-Zaman graced the Ceremony as Chief Guest whereas, hundreds of affectees of Khayaban-i-Ameen Housing Society also attended the ceremony. The distributed Possession Letters comprised of Apartments and Plots in Blocks E, H & K.
As per the details, in October 2018, NAB Lahore arranged 1st ceremony in which Possession Letters of 1,400 plots and 150 houses worth Rs4.70 billion were handed over to affectees of Khayaban-i-Ameen Housing Society. Later, two more consecutive ceremonies were also held in May and July 2019 to distribute PLs of 1531 plots and 443 houses collectively among affectees of said Housing Society.
Moreover, till date approximately 4,000 affectees of Khayaban-i-Ameen Housing Society comprising blocks E, H, K, P, Q, R, S, L, M, N and B etc have, so far, been benefited due to the tiresome efforts of NAB Lahore officials.
In this regard, Chairman NAB Justice Javed Iqbal and Director General (DG), NAB Lahore have issued clear instructions regarding laying particular focus on reprisal of losses caused to general public in Housing Sector than letting the accused persons stand convicted and languish in jails without any recovery.
NAB Lahore has been working to make it possible that every housing society in Punjab should display an approved map of the Society denominating dedicated places for Mosques, Grave Yards Play Grounds, Schools, commercial areas and Roads etc.
Whereas, as per the directions from DG NAB Lahore, Investigation Team will pay a fortnight visit to the Society to monitor ongoing development work in the Society.
While paying enormous gratitude to Chairman NAB Justice Javed Iqbal and DG NAB Lahore, affectees of Khayaban-i-Ameen Housing Society admired the actions being taken in Housing Sector and remarked that NAB Lahore has addressed the issues being faced to them in a very short duration which has been made possible due to the effective supervision of DG NAB Lahore.
By displaying thorough professional aptitude and expertise in Housing Sector related case, NAB Lahore has provided relief worth Rs15 Billion (approx) within last three days, only.— PRESS RELEASE