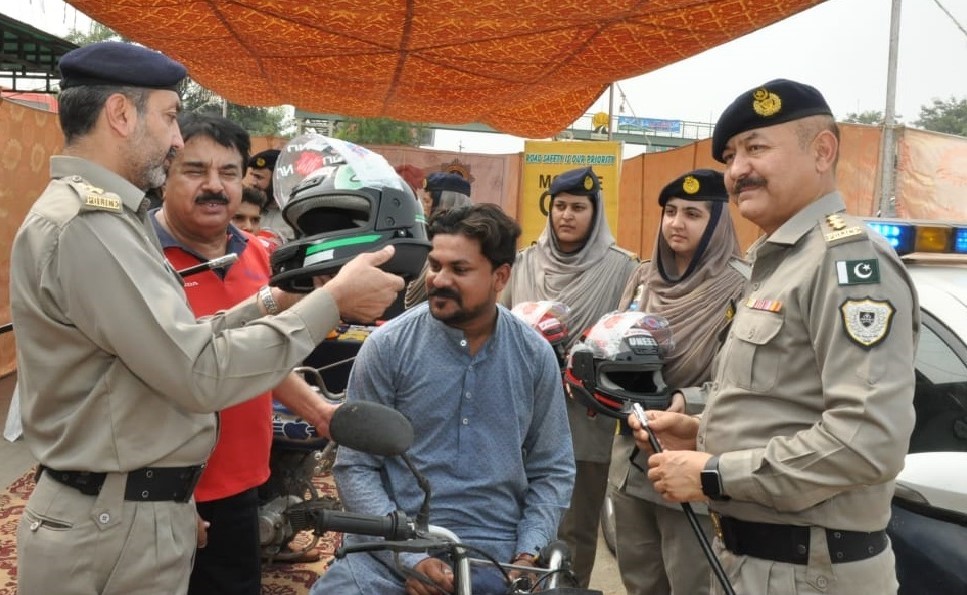 Helmets: NHMP Lahore Launches Road Safety Campaign
LAHORE– On the directions of DIG Ahmad Arslan Malik, NHMP Central Zone has launched a road safety awareness campaign to highlight the importance of Safety Helmet in coordination with Honda Atlas Company at Lahore.
Sector Commander Farrukh Shah, DSP Line Headquarters Shaukat Ali Chengezi, senior officials of Honda Atlas and other dignitaries were also present on the occasion.
While directing to launch the Safety Helmet awareness campaign DIG Ahmad Arslan Malik said that in Pakistan thousands of people die every year in road crashes and motorcyclists are major contributors in them.
Head injury is major cause of death, serious injury and disability among bike riders and it can be avoided by use of standard safety helmets, following traffic rules and adopting road safety measures.
At start of the campaign safety helmets were distributed free of cost among road users who were also briefed about other safety tips necessary while riding a bike. During the campaign it was also asserted that safety helmet is not only mandatory for bike rider but also for pillion rider too.
Motorcyclists were also briefed to install back view mirror, drive at slow pace at extreme left of the road and avoid using mobile phone and triple riding. DIG Ahmad Arslan Malik directed all the officers to take keen interest in the campaign as it would greatly help in saving loss of precious lives and property.— PRESS HANDOUT