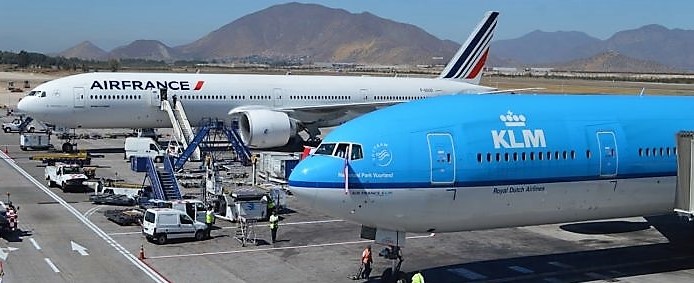 Hegemony Over Air Traffic: Netherlands Surprises French By Taking Air France's Stake
LAHORE MIRROR (Monitoring Report)– The Dutch government's sudden purchase of a 12.7 per cent stake in Air France-KLM in an attempt to counter French influence has surprised French politicians and negatively hit the airline's share value.
Air France's shares plunged almost 11 per cent after the Netherlands government said late on Tuesday it was acting to protect "Dutch interests".
The Dutch aim to match France's 14.3 per cent stake in the airline.
French Finance Minister Bruno Le Maire insisted the company should be "managed without national public interference".
According to French reports, the government in Paris was informed of the Dutch move only an hour before a press conference on Tuesday night, and after the shares had been bought.
A ministry source told AFP news agency the Dutch move was both "surprising" and "unfriendly", more in the manner of market traders than a state shareholder.
Meanwhile, French President Emmanuel Macron said the Dutch government should "clarify its intentions.
"Buying this stake ensures we have a seat at the table," Dutch Finance Minister Wopke Hoekstra said of the move, which cost about €680m (£583m; $774m).
Mr Hoekstra is expected to meet his French counterpart later in the week.
The justification, he said, was to protect Dutch economic interests and jobs – particularly regarding Amsterdam's Schiphol airport. Schiphol is Europe's third busiest airport after London Heathrow and Paris Charles de Gaulle.
KLM is more profitable than its French counterpart and retains much public support for its reputation as the national carrier. The monarch of the Netherlands, King Willem-Alexander, even serves as a co-pilot on the company's planes on a regular basis to maintain his pilot's licence.
There was widespread political support in the Netherlands for the secret share-purchase. Centre-right CDA leader Sybrand Buma said it was of "great significance for a solid future for KLM".
SOURCE: BBC NEWS AND NEWS AGENCIES