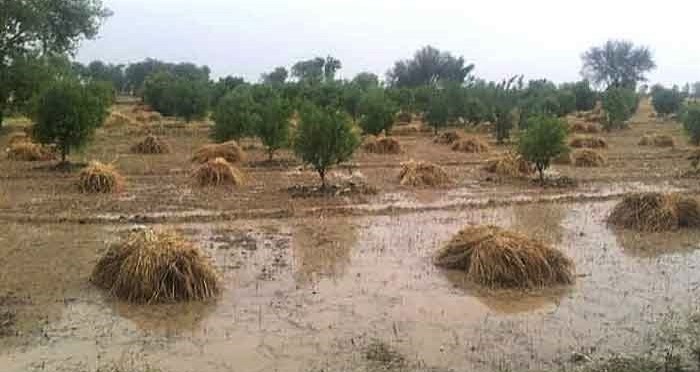 LAHORE– Up to 35,000 acres of wheat and corn crop have been destroyed during the recent spell of rains and hailstorm throughout the province, Punjab Agriculture Minister Malik Nauman Ahmad Langrial disclosed today.
The minister said an assessment would be made of the damages caused to the crops which were ready to harvest and the losses suffered by farmers. 
Punjab Food Minister Samiullah Chaudhry visited districts of Lahore, Kasur, Multan and Bahwalpur to review the damage to crop fields. The Punjab chief minister has summoned a cabinet meeting to discuss the damages to the fields by the rains.
In Multan, a hail storm which lasted 15 minutes destroyed wheat, corn and vegetable fields. Farmers have demanded that the government declares the affected areas "disaster stricken" and announce an aid package.
At least 31 villages have been affected and 9,000 acres of wheat crop destroyed as streams and canals were flooded following heavy rains on Koh-e-Suleman mountain areas of Rajanpur. Rajanpur Deputy Commissioner Muhammad Altaf Baloch told APP that 25 mouzas (administrative districts) of Jaampur teshsil, including Chitwal, Waziria, Hajipur, Thal Wazeer and others were affected, while seven mouzas of Rajanpur teshil, including Chak Patiat, Chak Bamonwala, Chak Sonahri and others, were affected by heavy rains on Koh-e-Suleman mountain areas.
Crops have been destroyed by the floods and a man was swept away by the flood water in Nowshera Gharbi, the deputy commissioner added.
Over 2,500 people have been shifted to safer places.
Ration is being provided to the affected people and medical camps are providing facilities to the affected, he further said.
SOURCE: NEWS AGENCIES