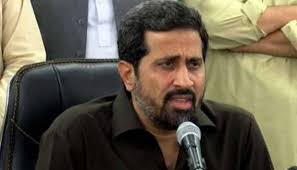 Govt To Make An Example Of Corrupt Elements Present In PTI, Claims Chohan
LAHORE: Punjab Information Minister Fayaz-ul-Hasan Chohan said on Saturday that the government will make an example of the corrupt element present in the Pakistan Tehreek-e-Insaf.
The provincial minister said in a public gathering that the Punjab government will present its 100 days performance before Prime Minister Imran Khan with honour. "The previous government's honeymoon period lasted over 100-day period."
Chohan said that the truth he speaks annoys cheaters and looters, who have named themselves, '18th and 19th amendments'.
He said that the politicians who were calling for accountability against each other have got united because they know they will soon be jailed for there financial malpractices.
"Nawaz told Shehbaz at the parliament's corridor to be not be played by Zardari," he claimed.
It appears that the Pakistan Tehreek-e-Insaf leader has a penchant for issuing high-handed remarks, which eventually creates controversy for the party and the government.
The minister, earlier, was forced to tender an apology for his derogatory statements on female artistes and news channels.
The minister, at the event in Lahore, had said that "if I had the authority, I would have made Nargis offer Hajj and Megha keep as much as 300 fasts a year."
"While speaking with regard to that a word slipped my tongue about Nargis sahiba and a TV channel hyped it too much," Chohan said in his video statement."I apologise to Nargis sahiba from the core of my heart. She is a very respectable person, a star of Pakistan film industry and a [cultural] ambassador of Pakistan."
Nargis had earlier slammed the minister for his derogatory, misogynistic remarks about the female artistes.
"Whoever this minister is, I have listened to his statement and I would only like to tell him that you are on a responsible post. Choose your words rightly," she said. "Minister sahib, every individual has respect; be careful next time or else every respectable person reserves the right to take a legal action."
Later in his message, Chohan also apologised for his comments about certain news channels, a clip of which was widely shared on social networking platforms.
"I also apologise to owners and employees of Kohenoor and Royal news channels," he said. "God willing, next time caution would be exercised with regard to all these things."
The minister had abused a private TV channel's technical staff in reaction to being asked by a talk show host about his controversial remarks in the past.