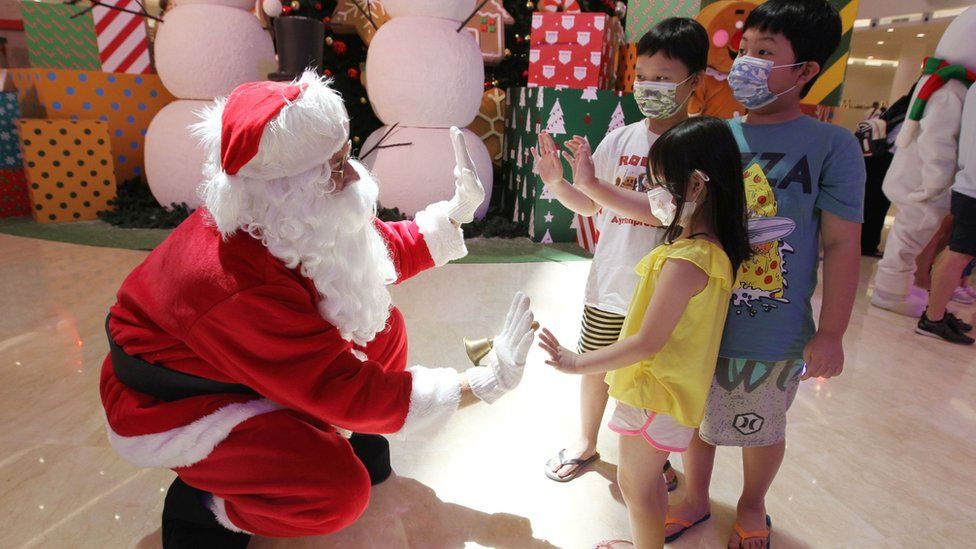 Global Christmas Celebrations Continue Amid Shadow of Coronavirus Pandemic
Global Christmas celebrations are taking place amid the coronavirus pandemic, with millions of people limiting festivities in a bid to spread further contagion.
Many will spend their Christmas grieving, after the health crisis claimed the lives of 1.7 million people so far this year.
We take a look at how different countries are marking the holiday.
In the Palestinian town of Bethlehem, people celebrated Christmas Eve with only small numbers attending the traditional events. But town leaders said they were determined to send a message of hope.
"There are restrictions on the movement of people and on social networking but it is Christmas, Christmas gives people hope for better times," said Mayor Anton Salman, standing next to the huge Christmas tree in Manger Square.
"So we are celebrating the holiday in all means, the only thing missing at this stage is the big crowd, like it used to be in the previous years, but people in Bethlehem are optimistic that the future will be better."
Latin Patriarch Pierbattista Pizzaballa led the Christmas Day Mass on Friday in Bethlehem's Church of the Nativity, as the biblical city celebrated the holiday in a subdued atmosphere.
In Lebanon, the government lifted most virus measures ahead of the holidays, hoping to stimulate the economy. Tens of thousands of Lebanese expatriates arrived home for the holidays, but there were some fears this could lead to a surge in cases during the festive season.
Lebanon has the largest percentage of Christians in the Middle East – about a third of its 5 million people – and traditionally celebrates Christmas with much fanfare.
Egypt has called off all New Year's celebrations to stem a rise in cases.
Meanwhile, celebrations in Europe were cancelled or greatly scaled back as virus infections rose across the continent amid fears of a new, more infectious variant.
In the United Kingdom, people welcomed Christmas Eve with a Brexit trade deal, news received with relief and, by some, a dash of scepticism.
British Prime Minister Boris Johnson posted a video on his Twitter account delivering his Christmas message. Waving the thick stack of papers documenting the Brexit trade deal with the European Union (EU) in front of the cameras, Johnson said it is a "small present for anyone who may be looking for something to read in that sleepy post-Christmas lunch moment".
The Queen's Christmas annual speech is expected to be broadcast on Friday at 15:00 GMT.
In Italy, church bells rang earlier than usual. The Italian government's 10pm (09:00GMT) curfew prompted pastors to move up services, with "midnight" mass starting Thursday evening in some churches as early as a couple of hours after dark.
In Vatican City, Pope Francis, who just celebrated his 84th birthday, fell in line and held a mass in a rear section of Saint Peter's Basilica with fewer than 100 participants and only a small number of cardinals and bishops.
On Friday he called on countries to share COVID-19 vaccines, saying walls of nationalism could not be built to stop a pandemic that knows no borders. Francis delivered his traditional "Urbi et Orbi" (to the city and the world) message virtually from a lectern inside the Vatican.
"At this moment in history, marked by the ecological crisis and grave economic and social imbalances only worsened by the coronavirus pandemic, it is all the more important for us to acknowledge one another as brothers and sisters," he said.
He also highlighted the plight of children caught up in war, singling out victims in Syria, Yemen and Iraq.
In Greece,  Christmas Eve was eerily silent. In normal times, voices of children singing carols while tinkling metal triangles can be heard all day. The decades-old custom, in which children go house to house and receive small gifts, was banned this year.
Groups of children managed to honour the tradition by singing to Prime Minister Kyriakos Mitsotakis by video link – including students from a school for children with hearing difficulties who performed in sign language.
Chancellor Angela Merkel has urged Germans to avoid visiting family members over Christmas and use video calls instead for greetings, the way service members stationed abroad do, as the country battles COVID. Germany is struggling with a rise in coronavirus infections and deaths.
In South Korea, people woke up on Christmas morning to learn that their coronavirus crisis has taken another turn for the worse as officials shut down ski resorts and national parks, restricted hotel occupancy and set fines for restaurants accepting large groups to arrest a viral surge that has spiked occupancy and deaths.
The nation has previously been held up as a model of how to combat the virus, with the public largely following official guidelines, but Friday saw a record 1,241 new infections.
"We strongly recommend and request that you cancel all of your meetings and gatherings, even with your close family members," said Yoon Tae-ho of Central Disaster Management Headquarters.
In China, authorities in the northeastern port city of Dalian are testing millions of residents after seven new coronavirus cases were reported there in the last 24 hours.
The cluster that has emerged in recent days has grown to 12 cases. In five neighbourhood divisions, authorities have shut schools and public spaces and are restricting anyone but essential workers from leaving their residential compounds.
Beijing is also on high alert after two asymptomatic cases were reported on Thursday, in addition to two confirmed cases last week.
In Australia, millions of Sydney residents were asked to limit their mobility over the Christmas holidays, with some families in lockdown and festive gatherings limited to 10 visitors indoors.
Australia's most populous city has been virtually isolated from the rest of the country with state border closures or mandatory 14-day quarantine for Sydney arrivals.
"Please limit your mobility," New South Wales (NSW) state Premier Gladys Berejiklian told reporters in Sydney on Thursday.
"Apart from those close family gatherings, which we have allowed over the Christmas break, we don't want people moving around unless you absolutely have to."
In the United States, Americans are marking a grim Christmas as coronavirus infections exploded nationwide. Political leaders warned people against travelling or gathering in large groups.
More than one million people have received the first of two vaccine doses since December 14, according to the US Centers for Disease Control and Prevention.
Achieving herd immunity against the virus could require the vaccination of up to 90 percent of Americans, Dr Anthony Fauci, the most prominent US infectious disease expert, told the New York Times in an interview.
Mexico on Thursday inoculated its first person against COVID-19. The Pfizer vaccine was given to 59-year-old nurse Maria Irene Ramirez, head nurse at the intensive care unit of Mexico City's Ruben Lenero hospital.
"This is the best gift that I could have received in 2020," said Ramirez, adding that it would give her strength to continue the "war" against the pandemic.
Chile received the first 10,000 doses of a 10-million order of the Pfizer-BioNTech vaccine on Thursday, with inoculations of health workers due to begin immediately.
In Costa Rica, health workers administered the first doses of the Pfizer vaccine to a pair of senior citizens in a home near the capital, San Jose, while some 300,000 doses of Russia's Sputnik V vaccine arrived in Argentina.
"My message is that everyone should be vaccinated," said Jorge De Ford, a 72-year-old former university professor who was one of the first two people in Costa Rica to get the injection.
Meanwhile, in Brazil, President Jair Bolsonaro used his Christmas message to cast more doubt on a coronavirus vaccine purchased by one of the country's states, from the Chinese biopharmaceutical firm Sinovac.
In his live broadcast on social media on Thursday, Bolsonaro said "the efficacy of that vaccine of Sao Paulo seems to be very low," though he added no specific details.
Brazil so far has no agreements to import vaccines made by Pfizer or Moderna, which have been approved by the US and other nations. It has a deal to secure up to 100 million doses of the potential vaccine produced by AstraZeneca.