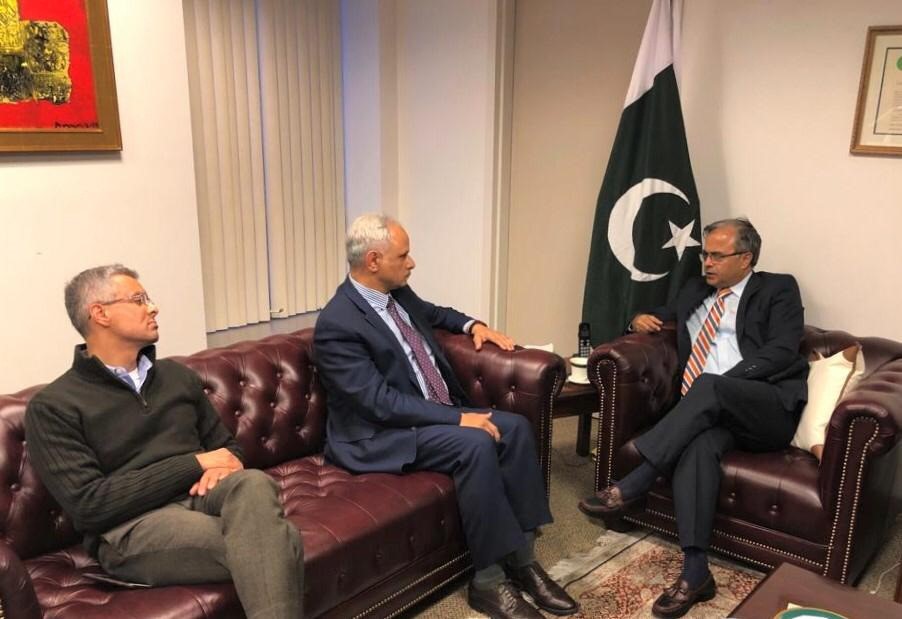 GCU VC Meets Pakistani Ambassador in US, Seeks Academic Linkages
LAHORE– Prof Dr Asghar Zaidi, the Vice Chancellor of Government College University Lahore, met Pakistani Ambassador to USA Dr Asad Majeed Khan at Washington DC the other day and sought his support and facilitation for establishing research and academic linkages with the top American universities.
The Vice Chancellor was on a three-day trip to America where he was invited by the US National Academy of Medicine to address a workshop on Social, Behavioral, & Environmental Enablers for Healthy Longevity.
Talking to the Vice Chancellor, Dr Majeed Khan said that GCU Lahore was one of the leading educational institutions of the country where excellence had been nurtured, pursued and celebrated since its inception in 1864. He said that generations of Ravians had been benefited from this great educational institution at the early stages of their education. The Ambassador, , who is also Old Ravian,  assured the Vice Chancellor of his help in establishing the state-of-the-art Public Health Institute and forming its alliances with the Johns Hopkins University and other similar prestigious institutions of USA.
He also offered his assistance in linking the GCU with the Japanese universities which would surely help setting up the Population Ageing Institution at GCU.
Later, the Old Ravians hosted a dinner in the honor of the Vice Chancellor in Washington where Professor Javed Akram Shiekh presented a valuable gift, a poem, to Prof. Zaidi for his alma mater. He wrote this poem in year 2012 narrating the excellence of the Government College, Lahore.
The Vice Chancellor said this poem would be placed at the University's Abdus Salam Hall, so that students could seek inspiration from it.— PRESS RELEASE