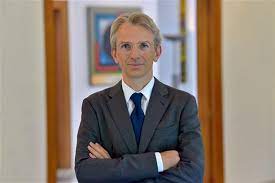 ISLAMABAD– The French embassy in Pakistan on Thursday advised all French nationals and companies to temporarily leave the country, after violent anti-France protests paralysed large parts of the country this week.
"Due to the serious threats to French interests in Pakistan, French nationals and French companies are advised to temporarily leave the country," the embassy said in an email to French citizens. "The departures will be carried out by existing commercial airlines."
The embassy's press attache Veronique Wagner, said "we can confirm that we have sent a precautionary note to all our citizens in Pakistan advising them to temporarily leave the country if possible due to the recent protests that have caused graver security threats and put its citizens at risk."
Anti-French sentiment has been simmering for months in Pakistan since the government of President Emmanuel Macron expressed support for a magazine's right to republish blasphemous caricatures depicting Holy Prophet (peace be upon him).
The Federal cabinet also has granted approval for banning the Tehreek-i-Labbaik Pakistan (TLP) whose leader had called for the expulsion of the French ambassador.
Saad Rizvi was detained hours after making his demands, bringing thousands of his supporters to the streets in cities across Pakistan.