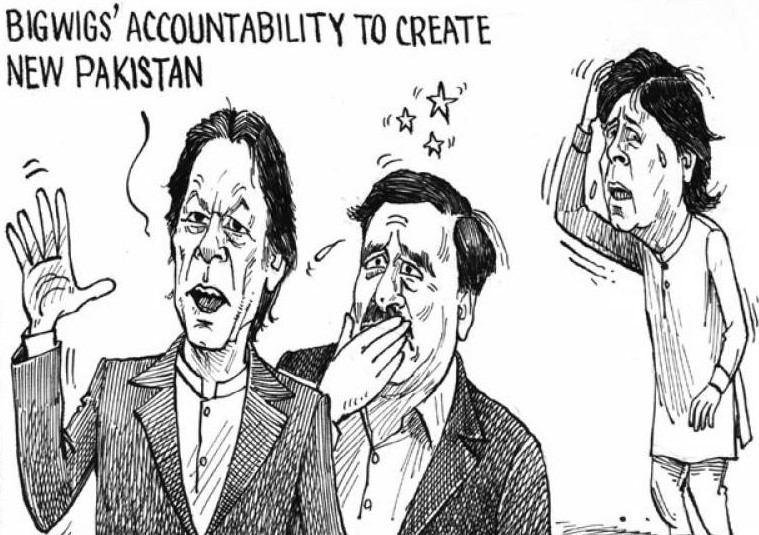 Ameena Tanvir
Ever since PTI assumed office in 2018, it vowed indiscriminate accountability that too without making compromises. Prime Minister Imran Khan's narrative of accountability predates to 2018 when during electoral campaigns, he along with other party bigwigs, promised an all-out effort to uproot corruption and keeping accountability drive atop if the party comes to power. After making it to power corridor somehow, the PTI upped ante against corruption through excessive usage of National Accountability Bureau (NAB) and putting several key political figures and bureaucrats behind bars on corruption charges.
However, there seems to be a halt in accountability drive. Last week, a story by Ahmad Noorani, an investigative journalist, stormed news circles when he revealed properties owned by Lt Gen. Asim Saleem Bajwa (retd). Noornai alleged that Bajwa, who wasSpecial Assistant to PM (SAPM) on Information and Broadcasting and head of the CPEC authority, runs a parallel business overseas and how Bajwa's assets witnessed massive growth in no time. Amid burgeoning pressure, Bajwa stepped down from SAPM and tendered his resignation to the PM in one-on-one meet. PM Khan, however, refused to accept Bajwa's resignation citing complete satisfaction with justification Bajwa has issued in the press.
Bajwa had issued a 4 pager detailed rebuttal calling story a "baseless allegations levelled against me and my family… I have and will always serve Pakistan with pride and dignity".
Meanwhile, critics reminded PM Khan of his talk of the past in which he vehemently asked all facing corruption charges or allegations must step down until NAB or courts give clean chit to the accused. In a number of videos that chipped in on social media after PM didn't accept Bajwa's resignation, one can clearly hear Khan passionately quoting West as an example where accused prefer dignity over corruption charges.
This is not the first time that the ruling PTI has backtracked from the anti-corruption drive. Earlier this year, senior PTI leader Jehangir Tareen who also helped party in getting independent candidates' support in forming government both in Punjab and Center, fled away to London when sugar inquiry report termed his mill one of the beneficiaries of subsidy and acted as cartel to take sugar price to unprecedented high. Tareen stays in London till today and PTI seems to be in no rush going after him. PM Khan promised to punish all those behind sugar crisis but despite Sugar Commission Report, no real progress is witnessed.
When COVID19 wreak havoc in Pakistan, the country faced acute shortage of face-masks with public purchasing masks from pharmacies at a high cost.  A representative of the Pakistan Young Pharmacists Association (PYPA), Dr Furqan, filed complain with FIA and alleged that 20 million face masks were "smuggled" out of Pakistan with the help of PM's then aide on health Dr. Zafar Mirza. The FIA subsequently launched enquiry against Dr. Mirza without any follow up development on the issue till today. Dr. Mirza later resigned for having dual-nationality which is barred for persons holding public office.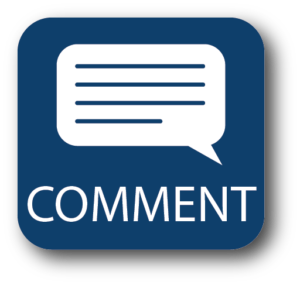 PTI's main partner in the federal and Punjab government Pakistan Muslim League-Q (PMLQ)also reaps benefits from the coalition through delay and halt in enquiries. Last year, an accountability court accepted NAB's pleas to close a 19-year old case against current PMLQ leaders Pervez Elahi and party Chief Chaudhary Shujjat Hussain. The case was closed apparently amid lack of evidence, however, there were signs that the PMLQ is not happy with PTI and that the former's exclusion from coalition may result in government fall.
Above all, the major set-back to PTI's accountability drive was seen when it let former PM Nawaz Sharif go to London for medical treatment. Over the years, PTI and Khan's whole politics surrounded around Sharif who was disqualified from the Supreme Court over dubious charges. Sharif's stay in London and intermittent fresh photo-leaks spark a debate as to whether PTI made a deal with Sharif. It also dumped PTI's accountability drive as one of the ministers, Fawad Chaudhary, accepting that Sharif's departure is a fatal blow to PTI's accountability narrative.
Detaining opponents on the name of accountability and corruption is not a new tactic in Pakistan. It just renewed in Khan's Naya (New) Pakistan. Over two years for PTI in power and it has dismal scorecard when it comes to fulfilling promises, including the promise of bringing back laundered and looted wealth stashed abroad. Nabbing political opponents and sending them into jails didn't work well as not a single penny from abroad came to Pakistan. Instead, Supreme Court questioned NAB's performance several times terming the watchdog as "exploitation firm" and "a tool for oppression and victimization of political opponents by those in power".
Critics say that Khan who advocated for across the board accountability has rescued a besieged retired general and thereby perhaps putting final nail in the coffin of accountability. A sorry scorecard on economic, social and political board had already made things tough for PTI, giving Bajwa a clean-chit puts party on back-foot and it's hard to predict what narrative PTI will bank on during the next general elections.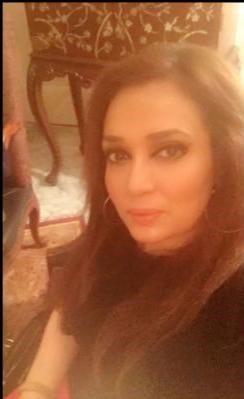 — The writer is PhD scholar at the Centre for South Asian Studies, Punjab University Lahore. She tweets @AmeenaTanvir and can be reached at ameenatanvir20@gmail.com
Disclaimer: The views expressed in this article are those of the author and do not necessarily reflect the official policy or position of Lahore Mirror