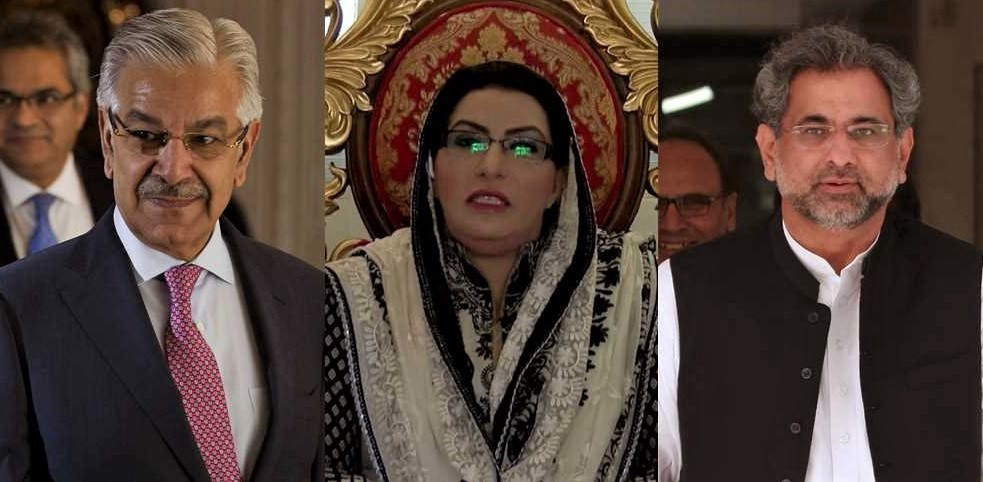 Former PM Khaqan says NAB Chairman Has No Right To Insult Politicians
Firdous Ashiq of PTI says instead of hurling threats, opposition should respond to NAB's queries

ISLAMABAD– Pakistan Muslim League-Nawaz senior leader and former prime minister Shahid Khaqan Abbasi Tuesday said that National Accountability Bureau (NAB) chairman Justice (retired) Javed Iqbal had no right to insult politicians.
Speaking at a press conference in Islamabad, Abbasi said NAB is no more neutral department, clarifying that Opposition Leader in National Assembly (NA) Shehbaz Sharif has never met Justice Javed.
He said Bureaucrat Fawad Hasan Fawad and former director general of the Lahore Development Authority (LDA) Ahad Cheema were denied bail whereas Pakistan Tehreek-e-Insaf (PTI) leader Aleem Khan was released.
NAB chairman's claim of being offered bribe was not true, he added.
The PML-N leader further said that none of 3500 corruption cases have been decided yet.
Zardari says chairman NAB doesn't have right to give an interview
Former president and Pakistan Peoples Party (PPP) leader Asif Zali Zardari said Chairman National Accountability Bureau (NAB) Justice (retd) Javed Iqbal doesn't have the right to give an interview.
"He [Chairman NAB] does not have the right to give an interview. His post does not allow him to do this. We will take action against it," Zardari told reporters outside the accountability court on Tuesday.
"The law says the accused is the favourite child of the court unless there is proof of guilt. Right now no one is guilty and you [NAB] are placing people in handcuffs, drag the elderly to jail and then say run the economy," the former president added.
Asif Ali Zardari and his Faryal Talpur appeared before the accountability court with the hearing of the fake accounts case being adjourned till May 30. The court did not set a date for the indictment of Zardari and Talpur as the accused were not provided copies of the reference against them.
No threats as opposition should respond to NAB's queries: Firdous
Special Assistant to Prime Minister on Information and Broadcasting Dr Firdous Ashiq Awan while criticizing the opposition's behaviour said that it should reply to the queries of the anti-graft watchdog instead of attacking National Accountability Bureau (NAB), hurling threats and dragging the media.
Addressing a press conference in Islamabad after federal cabinet meeting, she said that the NAB is a national institution, adding that it has the right to present its stance. The SAPM went on to say that the disinformation will spread if the Bureau wouldn't speak.
Fordous Ashiq Awan said: "The NAB is free from any sort of government pressure but it is the responsibility of the government to facilitate the anti-graft agency where needed."
"The opposition can approach courts if they have complaints with the NAB," she said and added the bureau is working within its constitutional ambit.— LAHORE MIRROR REPORT