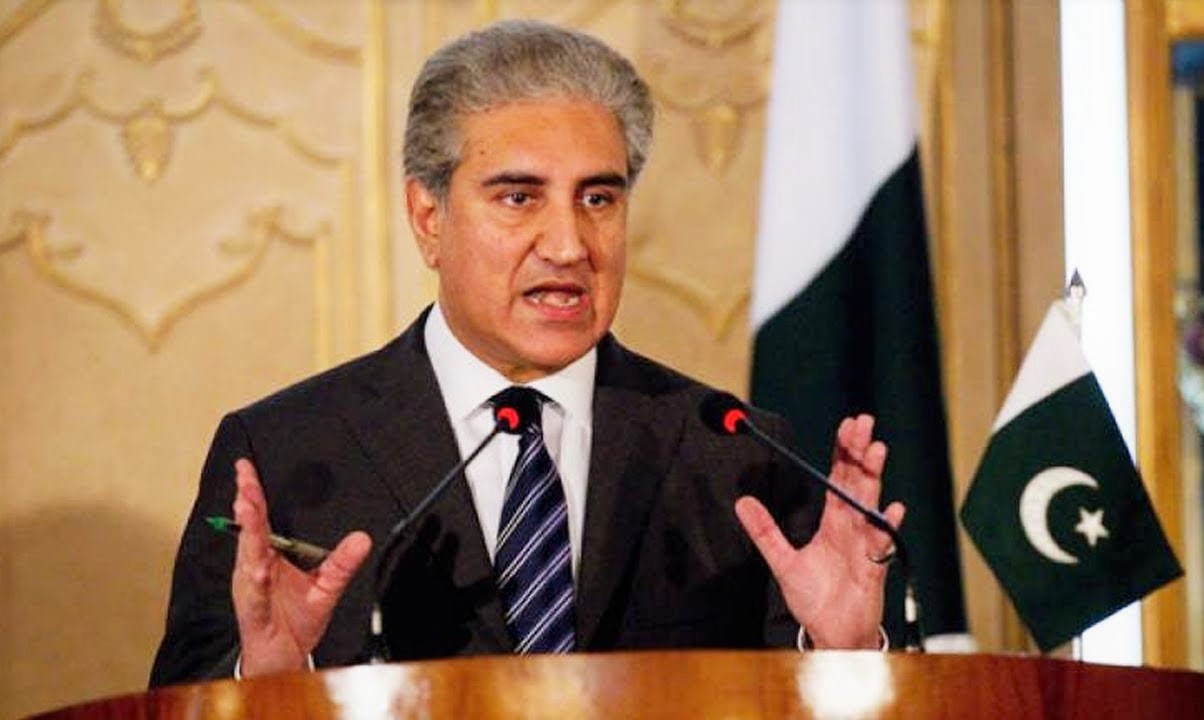 Foreign Minister Qureshi Critical of Tareen Attending Government, PTI Meetings
Addresses news conference in Lahore
LAHORE MIRROR REPORT/MONITORING DESK– The presence of Pakistan Tehreek-e-Insaf leader, Jahangir Tareen, in official meetings is giving the opposition a chance to raise finger over party, said Foreign Minister Shah Mehmood Qureshi today.
He criticised the leader's attendance in government and PTI meetings. "I will ask Tareen to think, whenever you sit in official meetings Marriyum Aurangzeb gets a chance to hold press conferences," he remarked. 
The minister was responding to a question of a reporter at a news conference in Lahore on Monday.
"The Pakistan Muslim League-Nawaz raises questions that whether this is contempt of court. When 62 (1)(f) is imposed on Nawaz Sharif we say he cannot hold any government or party position. If 62 (1)(f) is imposed on us, should it have a separate yardstick? The Tehreek-e-Insaf worker is mentally unable to accept this and you [Tareen] are giving an opportunity to opponents of Tehreek-e-Insaf to exploit this," the foreign minister added.
According to Shah Mehmood Qureshi, Tareen was disrespecting the present Chief Justice of Pakistan Justice Asif Saeed Khosa who at the time was heading the bench which disqualified the PTI leader. "You [Tareen] had the right to an appeal which was not accepted by the court."
Qureshi requested that Tareen should offer advice while remaining in the background. "When you [Tareen] come and preside over meetings, objections are raised. The same officers and ministers come out and talk."
The minister said Tareen should voluntarily help this situation but refrain from those exercises which would lead to fingers being raised at the part.
On the issue of renaming the Benazir Income Support Programme (BISP), Qureshi said it will not be a "politically correct" decision and will be equivalent to making a non-issue an issue.
"Changing its name will not be politically correct. The issue is not of the programme's name but work and renaming it will be equivalent to making an issue out of a non-issue," he remarked. "Pakistan Peoples Party's future cannot be seen in Punjab and ahead of the elections, no one expected the party to form the government in the province.
"What Bilawal is about to do will cause damage. PPP cannot be successful without getting rid of its declining faces."
Tareen tweets no one can stop him from serving Pakistan
PTI leader Jahangir Tareen, responding to Foreign Minister Shah Mehmood Qureshi's remarks that his presence in official meetings gives the opposition something to talk about, said "no one can stop him from serving Pakistan."
"Serving Pakistan is my right. No one including Shah Mehmood Qureshi can take that right away from me.
"Wherever I go, I go [as per] the wishes of Prime Minister Imran Khan. I am answerable to only Prime Minister Imran Khan in political matters," Tareen added.
In a tweet, Tareen said he only considered Imran Khan as his leader and he had stood by his side through thick and thin and would continue to do so.
"What others may say for their own strange reasons does not concern me," the PTI leader maintained.
SOURCE: GEO NEWS