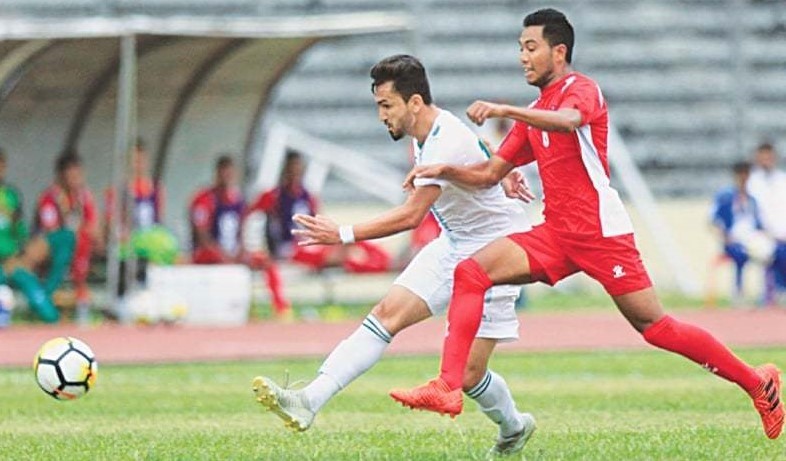 Footballer Saadullah Appeals PM To Ensure Pak Team's Participation In World Cup Qualifiers
LAHORE MIRRROR (Monitoring Desk)– Pakistan Football team's player Saadullah Khan has appealed Prime Minister Imran Khan to take notice of issues faced by football and intervene to ensure Pakistan's participation in 2022 World Cup qualifiers.
Pakistan is scheduled to take on Cambodia in pre-qualifiers for FIFA World Cup 2022 in June, but the participation remains uncertain due to power fights between the two groups in PFF.
"I urge PM to take a notice of the issue and take footballers out of this mess. Our future is at a risk," Saad told geo.tv.
A FIFA fact-finding mission is scheduled to visit Pakistan later next month to assess the situation.
The current crisis in PFF emerged following court-ordered elections which saw the ouster of Faisal Saleh Hayat with Syed Ashfaq Hussain replacing him.
FIFA and AFC have, however, refused to accept Ashfaq as president of PFF terming his elections as third party's involvement and against FIFA's statues. Faisal, despite being endorsed by FIFA and AFC, is no more acknowledged as president of PFF inside Pakistan.
The situation has now make Syed Ashfaq unable to send teams to any FIFA or AFC tournaments as he's not recognized as president. Faisal, who is accepted by FIFA, can not do any football activities in Pakistan.
The situation has made footballers worried about their future.
"If we are unable to participate in World Cup qualifiers this time then we will be unable to play any event in next three years. So, I and other players request both fractions of PFF to find a way and make us play in qualifiers," Saad said.
"If nothing happens, then all the players will think about quitting the sport," he concluded.
COURTESY TO GEO NEWS