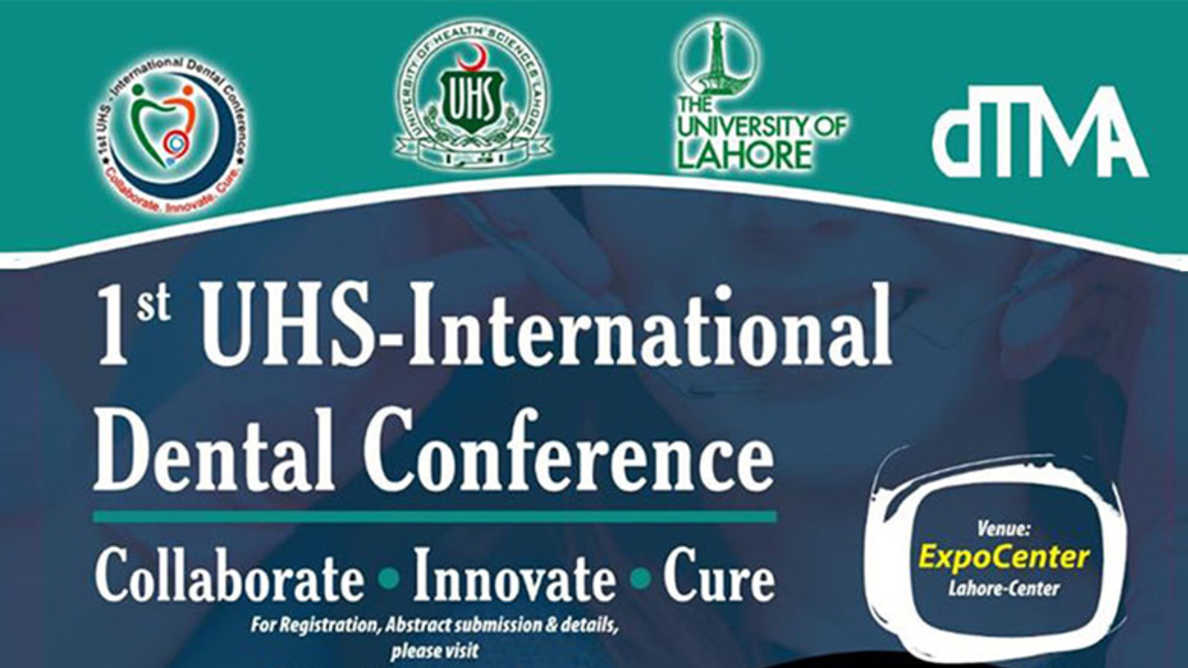 First UHS International Dental Conference to be Held on Oct 3
-- Metropolis will See Year's Biggest Int'l Scientific Moot
LAHORE– The public and private sector dental institutions of the Punjab have joined hands to organize the biggest moot- International Dental Conference- of the year which will be inaugurated by President Dr Arif Alvi on Oct 3.

The First International Dental Conference of University of Health Sciences (UHS) will be held at Expo Centre Lahore.
The theme of 3-day International Conference is "Collaborate, Innovate, Cure".

The conference will see noted dental experts from around the world as invited guest speakers. These include Dr. Andrew Edwards (UK), Dr. Nader Hamdan (Canada), Dr. Thantrira Prontaveetus (Thailand), Dr. Jayanie Weeratna (Sri Lanka), Prof. Senem Ozer (Turkey), Prof. Jagjit Singh Dhaliwal (Brunei Darulusalam), Dr. Ansa Akram (UK),  Prof. Torun Ozer (Turkey), Dr. Mohammad Abdel Majeed Abualhaj (Jordan), Dr. Ghassan Habash (Palestine), Dr. Hytham Abdelaziz (Egypt), Dr. Mostafa Nabil (Egypt), Prof. Sadullah Uctasli (Turkey), Dr. Abdel Rahman Tawfik Ali (Egypt), Eduardo Meurer (Brazil), Dr. Hebah Abdulkarim O Faden (Saudi Arabia), Dr. Ala Ersheidat (Jordan), Prof. Sibel Elif Gultekin (Turkey) and Prof. Dr. Shemin Lu (China).

Besides five plenary session, 25 oral presentations, 56 poster presentations, the conference will feature more than 100 dental art and table clinic displays by students and faculty.

During the conference, several memoranda of understanding (MoU) will be signed by UHS with top medical and research institutions of the world including Royal College of Physicians and Surgeons of Glasgow, Science Bridge, Spain, Achucarro Center for Neuroscience, Spain, Chinese Academy of Medical Sciences, University of Brunei Darulusalam and Xi'an Jiaotong University, China. A dental exhibition comprising more than 80 stalls by dental material manufactures and dental institutes shall also be part of the conference.
There shall be live-streamed surgery workshops (maxillofacial and periodontal) on complex dental disease non-affording patients.

The first day of conference (Oct 02) shall see 19 pre-conference workshops in almost all the dental institutions of the province in both public and private sector which will be facilitated by international experts.
The institutions include Margalla Institute of Health Sciences, Rawalpindi, Islamic International Dental College, Islamabad, Allama Iqbal Medical College, Lahore, Faryal Dental College, Sheikhpura, University of Lahore, Akhtar Saeed Medial & dental College, Lahore, CMH College of Medicine and Dentistry, Lahore, Lahore Medical & Dental College, Lahore, de'Montmorency College of Dentistry, Lahore, Sharif Medical & Dental College, Lahore, FMH College of Medicine and Dentistry, Lahore, Bakhtawar Amin Medical and Dental College, Multan, Multan Medical and dental College, Multan and UHS.

In this regard, UHS Vice Chancellor Prof Javed Akram said that during the conference a Global Dental Health and Education Alliance Would be launched with top dental institutions of the world as its members.
He added that the conference would showcase a "softer image" of the country.The Conference Secretary, Dr Sarah Ghafoor said that it is for the first time in Pakistan that a public sector university was organizing a conference of that mega-level.

"The response of dentists and researchers from all over the country is over-whelming as our workshops and other events are fully booked", she added.

She further informed that along with main scientific session, there would be a special session for young dental graduates under the title of "suXess factors in dentistry" which would guide them in their future career goals.— PRESS RELEASE