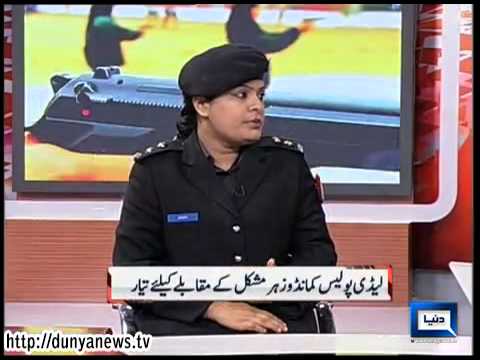 Field Policing: Punjab Gets First-Ever PSP Woman DPO And Couple Police Officers
Dr Farah Masood also first Regional Commissioner in Pakistan; Shuffle of two RPOs raises eyebrows
By Faisal Ali Ghumman
LAHORE: Ms Amara Athar has been honoured with becoming the first-ever female district police head in Punjab on Friday, setting a new trend for the women officers to perform field policing throughout Pakistan.
Ms Athar, who is the wife of Senior Superintendent of Police (SSP) and DPO Rahim Yar Khan Dr Athar Waheed, has also set a new example in the police service being DPO side by side with her husband in Bahawalpur region.
Belonging to 36th CTP and graduate in the Business Administration, the officer has already served as SSP Operations Multan, SP Security and Additional SP Investigation (with operations charge too) in different divisions of Lahore police. Ms Athar will be the first woman PSP officer in the police service to serve any district.
A woman police officer named Naseem Aara from the provincial civil service was earlier posted as DPO in Sindh in the past.
Currently up to 20 women Assistant Superintendents of Police (ASsP) and Additional SPs serving different positions in Punjab.
Incumbent Sahiwal Regional Commissioner Dr Farah Masood is also the first-ever Pakistan Administrative Service woman officer of 26th Common who became Commissioner and set a new trend of women empowerment.
The posting of Ms Athar has been widely appreciated by the police circles who rate the woman an upright, hardworking and professional officer. According to a notification issued by the Central Police Office, Additional SP Security Lahore Amara Athar has been transferred and posted DPO Bahawalnagar vice Captain (retired) Mustansar Feroze who has been ordered to report to the CPO, Punjab, Lahore.
In other notifications, DPO Dera Ghazi Khan Waqas Hassan has been transferred and directed to report to CPO, Punjab, Lahore while SSP Operations Rawalpindi Ft Lt (retired) Imran Yaqoob has been transferred and posted DPO D G Khan.
Mr Yaqoob, who belongs to 29th Common and served as SSP Investigation Gujranwala, has got his first full-fledged district in Punjab to serve. Mr Feroze and Mr Hassan have been relieved for the Mid-Career Management Course (MCMC).
NEW RPOs: The Punjab government has transferred and posted two Regional Police Officers.
According to a notification, RPO Multan Abu Bakar Khuda Baksh has been transferred and posted Additional IG Investigation Punjab and has been replaced by Additional IG Punjab Highways Patrol Kanwar Shah Rukh. Shah Rukh is considered an honest and upright police officer.
A source privy to the recent shuffle claims Mr Baksh had conveyed to the provincial police officer to be relieved from the field post and re-appointed as Additional IG Investigation Punjab. During his Multan posting, a religious group took to streets against Baksh.
Additional IG Elite Police Punjab Shahid Hanif has been transferred and posted RPO Gujranwala vice DIG Zulfiqar Hameed who has been posted DIG Information Technology Central Police Office Punjab.
Mr Hanif, who is former RPO Bahawalpur and was removed from the post allegedly on some intelligence reports, failed to get field posting again in the tenure of Shehbaz-led PML-N government. As Mr Hanif is considered very close to PML-Q leader and former Chief Minister Punjab Chuhadry Pervaiz Elahi, who will now be the part of the new PTI government, the police circles believe Elahi's hand behind his posting.
Zulfiqar Hameed has been reportedly removed from the slot because of his alleged political favour to PML-N candidates in Gujranwala and Sialkot, a source in Punjab government confided to www.lahoremirror.com.