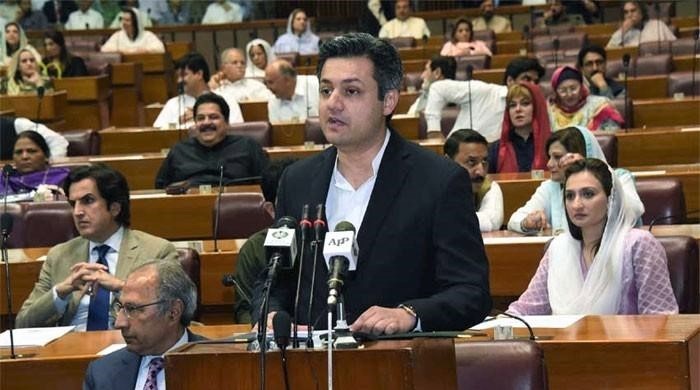 ISLAMABAD– Pakistan Tehreek-e-Insaf government on Tuesday presented its first budget with total outlay of Rs7.022 trillion for the fiscal year 2019-20, registering growth of 30 percent against the revised budget of Rs5.385 trillion for current fiscal year (2018-19).
State Minister for Revenues Hammad Azhar presented the budget in the National Assembly, amid protest by the opposition parties.
The minister said total federal revenues have been estimated at Rs 6.717 trillion which is 19 percent higher than the previous year's revenues of Rs 5.661 trillion.
The collection of revenues by Federal Board of Revenue (FBR), he said are estimated to be recorded at Rs 5.555 trillion which are 12.6 percent of Gross Domestic Product (GDP).
The minister of state said out of total revenue collections, an amount of Rs 3.255 trillion would be distributed among the provinces under 7th National Finance Commission (NFC) Award which is 32 percent higher than the current year's share of Rs 2.465 trillion.
He said Net Federal Revenues for the upcoming fiscal year have been estimated at Rs 3.46 trillion against the revenues of Rs 3.07 trillion during current fiscal year which is 13 percent higher.
Similarly, he said the federal budget deficit would be Rs 3.56 trillion whereas the provincial budget surplus is estimated to be at Rs 423 billion for the year 2019-20.
Minister of State for Revenues Hammad Azhar said the consolidated fiscal deficit for the coming year is estimated at Rs.3.137 trillion or 7.1% of the GDP as against 7.2% of the GDP in financial Year 2018-19.
He said with respect to the worst economic situation, inherited by the incumbent government around 10 months ago, when total debt and liabilities had reached to over Rs 31,000 billion, foreign debt and liabilities were around US$97 billion, foreign exchange reserves with State Bank of Pakistan had fallen from $18 billion to less than $10 billion and Current Account Deficit touched the historical mark of $20 billion, it had to take measures to control the situation.
Presenting the measures taken by the government to stabilize economy, Hammad Azhar said imports duties were increased to cut trade deficit by $4 billion in 10 months.
He said during the period, remittances were increased by $2 billion, and electricity circular debt which had reached Rs.38 billion per month, was brought down by Rs.12 billion to Rs.26 billion per month.
Besides, he said the government also managed to mobilize $ 9.2 billion from China, UAE and Saudi Arabia to support balance of payment situation.
He said due to government's measures to support industrial sector, higher volumes of exports were witnessed as knitwear exports increased by 16%, readymade garments by 29%, fruits by 11% and vegetables increased by 18%, and basmati rice by  22%.
Similarly, he said an agreement has been reached with the International Monetary Fund (IMF) for a $6 billion programme. Once approved by the IMF board, this programme will have benefits such as generating additional international assistance of $2 – $3 billion from the World Bank and Asian Development Bank at relatively lower interest rates and achieving stabilisation of the economy and build a sustainable platform for growth.
"A deferred payment facility of $3.2 billion for purchase of oil and gas products from Saudi Arabia was also acquired to reduce pressures on foreign reserves besides operationalising  Islamic Development Bank
for deferred payment facility of $1.1 billion", he said adding with these measures, it is expected that the current account deficit for the year will reduce by $7 billion this year.
With respect to targets of different economic indicators set by the government for the year 2019-20, the minister of state pointed out that by reducing imports and aiming for higher exports, the government wants to bring current account deficit from $13 billion estimated this year to $6.5 billion in 2019-20.
"A challenging target of Rs. 5,555 billion FBR revenue collection will be combined with aggressive expenditure controls to reduce primary deficit to 0.6% of GDP. Both the civil and military governments have announced unprecedented reduction in expenditures", he said.
Hammad Azhar said in order to increase tax-to-GDP ratio from as low as 11% to over 12%, the government had to bring fundamental reforms in the taxation system.
He said keeping in view the austerity measures, the running of civil government, which was Rs 460 billion this year, was being budgeted at Rs.437 billion for the coming year, a decrease of 5% while the defence budget was being maintained at the last year's level of Rs1,150 billion.
Highlighting the proposals to protect vulnerable segments, the minister said subsidy of around Rs 200 billion was being proposed in the next year's budget.
Pointing out establishment of an important new division of Poverty Alleviation and Social Safety, he said under the programme (Ehsaas), special nutritious food would be provided for infants and mothers, besides provision of interest free loans to 80,000 deserving poor.
He said six million women would get stipends in their saving accounts and increased access to mobile phones while 500 Kifalat centres would also provide online access to free courses to women and
children.
He said the BISP under Ehsaas programme was using unconditional cash transfer intervention with Rs 5,000 per quarter to 5.7 million poorest of the poor families, with an annual budget of Rs110 billion and keeping in view current inflation level, the  government was going to enhance the quarterly stipend from Rs 5,000 to Rs 5,500.
The Sehat Sahulat programme, he said, was a health insurance scheme for the poor and recipient of that scheme was entitled free of charge healthcare to indoor health care services worth Rs 720,000 per year from any of the 270 selected hospitals across Pakistan.
He said since the government borrowing from the State Bank was inflationary, therefore, the government would no longer use that facility with effect from July 1, 2019.
He said the medium-term inflation target would be in the range of 5 – 7%.
"The year 2019-20 shall continue to be the period of stabilisation. This is a difficult transition that we want to achieve within a minimum amount of time. We will try to minimise the adverse effects of any difficult decisions on our citizens," he added.
Hammad Azhar said the combined allocation of national development programme was proposed at Rs 1,863 billion, out of which the share of Federal Public Sector Development Programme (PSDP) was Rs
951 billion.
He said policy priorities were water management, building a knowledge economy, fixing electricity transmission and distribution, low-cost hydel power generation, China-Pakistan Economic Corridor, investing in human and social development and "Public Private Partnership" in eligible sectors such as highways.
The minister said for building dams, including Diamir Bhasha, Dasu and Mohmand dams, and drainage projects the government was setting aside Rs 70 billion.
Similarly, he said, around Rs 200 billion was being allocated for various road and rail networks, and some of those projects of road networks were also part of China-Pakistan Economic Corridor.
For energy projects, he said, Rs 80 billion had been earmarked.
For agriculture sector, he said, the federal government was investing record Rs 12 billion for multiple projects. The government had also announced the second phase of "Quetta Development Package"
under which Rs10.4 billion was proposed to be allocated.
Similarly, he said under the Karachi development package, nine projects costing Rs 45.5 billion were being undertaken.
With respect to measures in connection with creating jobs, Hammad Azhar said the Prime Minister's scheme of 5 million houses would benefit 28 industries and employ many.
"We have started by acquiring land in Lahore, Quetta, Peshawar, Islamabad, Faisalabad, etc. Other areas will follow. Financing arrangements are being completed. This initiative will provide low-income housing, trigger economic activity, develop related infrastructure and attract foreign investment. The Prime Minister has inaugurated 25,000 housing units at Rawalpindi / Islamabad and 110,000 units in Balochistan, which includes low-cost housing facilities for fishermen," he added.
He said the Kamyab Jawan programme would provide Rs100 billion in low cost loans for entrepreneurs to set up and expand businesses.
Similarly, in order to boost jobs, the government was providing a series of subsidies and incentives to the industrial sector, including Rs 40 billion subsidies to the industry for electricity and gas, and Rs 40 billion for export development package, he added.
He said to improve the agriculture sector, an important five-year programme worth Rs 280 billion for uplift of agriculture sector was being launched in consultation with the provinces.
He said the federal government would allocate Rs152 billion for development of districts that were previously part of FATA.
"This includes a 10-year development package in which the federal government shall allocate Rs 48 billion this year," he said, adding the 10-year package was part of Rs 1 trillion to be provided by both the federal and provincial governments.
He said the scope of CPEC had been enhanced through inclusion of new sectors, including socio economic development, agriculture and industrial development of Pakistan through establishment of Special Economic Zones.
Announcing the proposed relief measures for federal government sector employees, he said a 10 percent raise in the salaries of government employees from BPS 1–16 was being proposed, besides a five percent increase for those in BPS 17-20.
Similarly, he also announced 10% raise in the pensions of civil and military officials.
He, however, said there would be no raise of salary for officers in BPS 21-22.
He said the Special Conveyance Allowance for the disabled has been doubled to Rs 2000, while the Special Private Secretaries, Private Secretaries and Assistant Private Secretaries working for the Ministers, Ministers of State, Parliamentary Secretaries, Additional and Joint Secretaries got a big raise of 25 percent.  Hamad also announced to raise the minimum wage to Rs 17,500 per month.
SOURCE: APP