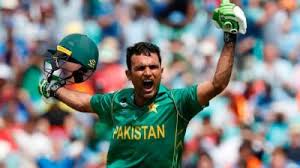 Fakhar Zaman Makes History: First Pakistani To Score Double Century In ODI
Fifth Highest Run Scorers in ODI History
BULAWAYO (Lahore Mirror) – Pakistani cricketer Fakhar Zaman set a record for Pakistani cricket history on Friday as he had scores a whooping 210 runs against Zimbabwe and became 5th highest runs scorer in ODI history.
Fakhar becomes first batsman in Pakistan's ODI history to score a double century and stands as the country's highest runs scorer in a ODI, beating legendary Saeed Anwar who kept hold the record of being the highest run scorer for the country with his 194 runs.
Saeed Anwar scored 194 runs against India back in 1997, which was highest score for any batsman in the world at the time.
Fakhar joined India s Rohit Sharma, Virender Sehwag and Sachin Tendulkar as well as West Indian Chris Gayle and Kiwi Martin Guptill as the only men to have scored a double hundred in an ODI.
The in-form 28-year-old took just 148 balls to reach the mark, the fourth fastest of all time behind Gayle s record of 138 balls, also against Zimbabwe.
Its the highest ODI score in Africa and just the third double hundred to be scored outside the subcontinent.
Fakhar also eclipsed the Pakistan record for the highest ODI score, the 194 that Saeed Anwar scored against India more than 20 years ago.
Having bizarrely watched the first 22 balls of the match from the non-striker s end, Fakhar made up for lost time by crunching seven fours in bringing up his fifty from just 51 balls.
He then raced to three figures from 92 deliveries, his third ODI century and his second of the series, including 11 fours and a six.