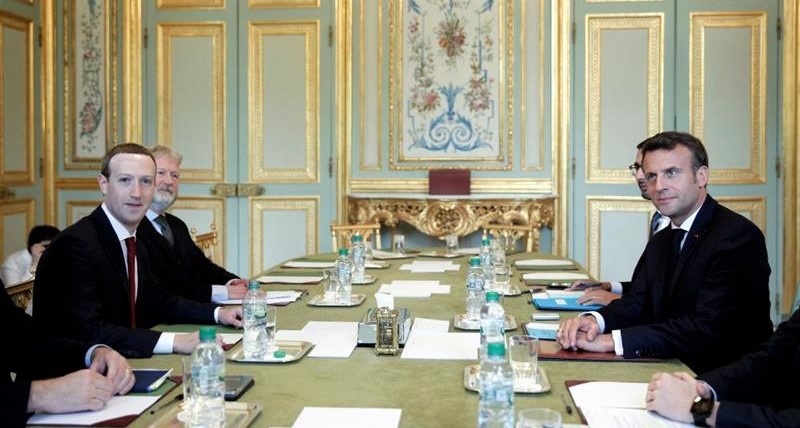 Facebook's Zuckerberg Meets French President Macron To Discuss Hate Speech
French officials recommend the government work with Facebook to remove dangerous material
PARIS– Facebook founder Mark Zuckerberg met French President Emmanuel Macron at the Elysee Palace on Friday to discuss the French government's plans to take a more active role in policing harmful content posted on the biggest social media website.
While Macron has been seeking more strict state control over social networks across the European Union, Facebook and French authorities have piloted a system of "co-regulation".
Preliminary findings of the trial system, released before Friday's meeting, suggested French officials did not trust Facebook to regulate itself alone, and recommend the government continue to work with the network to remove dangerous material.
"The inadequacy and lack of credibility in the self-regulatory approach adopted by the largest platforms justify public intervention to make them more responsible," the report said.
In January, French officials were taken behind closed doors at Facebook to see how the site's team of content moderators tackled harmful material such as hate speech and fake news.
Zuckerberg left Friday's meeting upbeat.
"I'm encouraged and optimistic about the regulatory framework that will be put in place," Zuckerberg told reporters at Facebook's Paris headquarters. "It's going to be hard for us, and there's going to be things in there that we disagree with. That's natural.
"But in order for people to trust the internet overall and over time, there needs to be the right regulation put in place," he said. "And I think the best way for that to get put in place is by governments like this one that are being thoughtful and diligent about how to do this."
An outspoken critic of the social media giant, Macron has encouraged other European governments to take on a similar role. The meeting between Macron and Zuckerberg comes as Facebook comes under mounting pressure from international regulators to do more to fight the spread of harmful content.
In March, a gunman who killed 50 people at two mosques in Christchurch, New Zealand, used Facebook to livestream his rampage.
Facebook did not stop the stream and it took a day to remove more than 1.5 million copies of the video from its website. Nearly two months later, some videos are still being found on the site.
The initial delay prompted New Zealand Prime Minister Jacinda Ardern to ask companies to respond to the "Christchurch Call", aimed at stopping violent content online. Ardern and Macron will co-chair a summit in Paris next week, where they will meet tech giants to discuss how they can do more to fight such content from spreading across different platforms.
Facebook executives are eager to avoid further regulation, and publicly welcomed the latest recommendations suggested by the French, which stopped short of mandating full state regulation of the network.
"This report from the French government reflects a deep and sophisticated understanding of the challenges in maintaining a 'free, open and safe internet'," Richard Allan, Facebook's vice president for policy solutions, said in a statement emailed to Al Jazeera.
"The report sets out a path towards a new model for content regulation that has the potential to be both effective and workable. It would allow platforms to develop innovative solutions to keep their users safe while being clearly accountable to a regulator for how well they do this."
'Time demands to break up Facebook'
Activist concern over government involvement aside, critics largely agree: Facebook's power has become too great.
In an op-ed published in The New York Times this week, Facebook cofounder Chris Hughes urged the US government to break up the company, which also owns Instagram and WhatsApp.
"The government must hold Mark accountable," he wrote. "For too long, lawmakers have marvelled at Facebook's explosive growth and overlooked their responsibility to ensure that Americans are protected and markets are competitive."
Even more concerning, wrote Hughes, was Zuckerberg's individual power within the company.
"He sets the rules for how to distinguish violent and incendiary speech from the merely offensive, and he can choose to shut down a competitor by acquiring, blocking or copying it."
Facebook, however, rejected Hughes' comments.
"Facebook accepts that with success comes accountability," said former deputy British Prime Minister Nick Clegg, now Facebook's vice president for global affairs and communication, in a statement.
"But you don't enforce accountability by calling for the breakup of a successful American company."