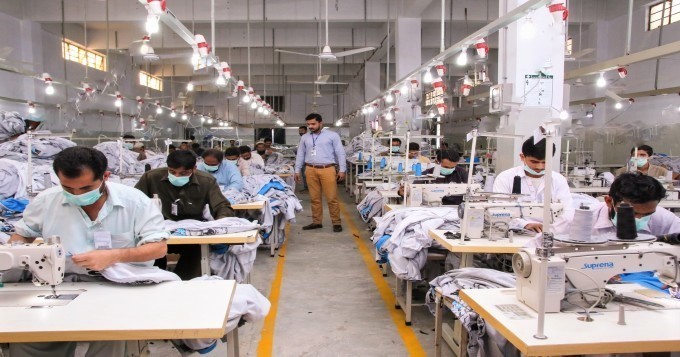 Export Refinancing: SBP Urged to Consider Reallocation and Upward Revision of Sanctioned Limits to Authorized Banks
FAISALABAD– To facilitate the exporters in respect to their increasing need of export refinancing, it is imperative that the State Bank of Pakistan should consider reallocation / upward revision of sanctioned limits to the authorized banks, suggests the hosiery manufacturing association.
This was stated by Chaudhry Salamat Ali, Central Chairman, Pakistan Hosiery Manufacturers & Exporters Association (PHMA).   
In his letter to Dr Reza Baqir, Governor, State Bank of Pakistan (SBP), Chaudhry Salamat Ali has asserted upon the need to enhance the SBP's sanctioned limit of export refinancing by banks to the Exports in order to support and facilitate them as currently the Textile exporters were facing severe liquidity crunch and hardships owing to cut-throat competition, exorbitant cost of manufacturing and doing business and imposition of Sales Tax by the Government. 
PHMA Central Chairman apprised that the Export Finance Scheme (EFS) is in operation since 1973 with the objective to boost the exports of the country where short term financing facilities are provided to exporters through banks for exports of value added manufactured goods made in Pakistan. Various member exporters have approached Association stating that their banks have shown their inability to meet the demand for credit with regards to export refinancing owing to limited sanction limit approved by the State Bank of Pakistan.
Hence, the Banks are unable to meet the requests and demands unless their sanctioned refinancing limit is enhanced by the SBP. 
Ch. Salamat Ali appreciated that Pakistan made biggest jump ever in World Bank 2020 Ranking on Ease of Doing Business with a leap from 148th ranking in 2016 to 108th ranking in 2020 and admired the Government for taking necessary steps and measures thereof.
Yet, in order to strengthen the economy, decrease the cost of doing business and achieve a milestone in exports, more concreate and practical moves are required at the level of Government to be taken in consultations with all the relevant stakeholders.  
Chaudhry Salamat Ali demanded the Governor State Bank of Pakistan to review the Export Finance Scheme Policy and genuinely consider and approve reallocation of sanction limit to Authorized Banks suffice to meet the demand for credit from exporters in respect to Export Refinancing in order to facilitate them which will ultimately enhance exports of Pakistan and shall act instrumental in earning more foreign exchange for our beloved country.— PRESS RELEASE