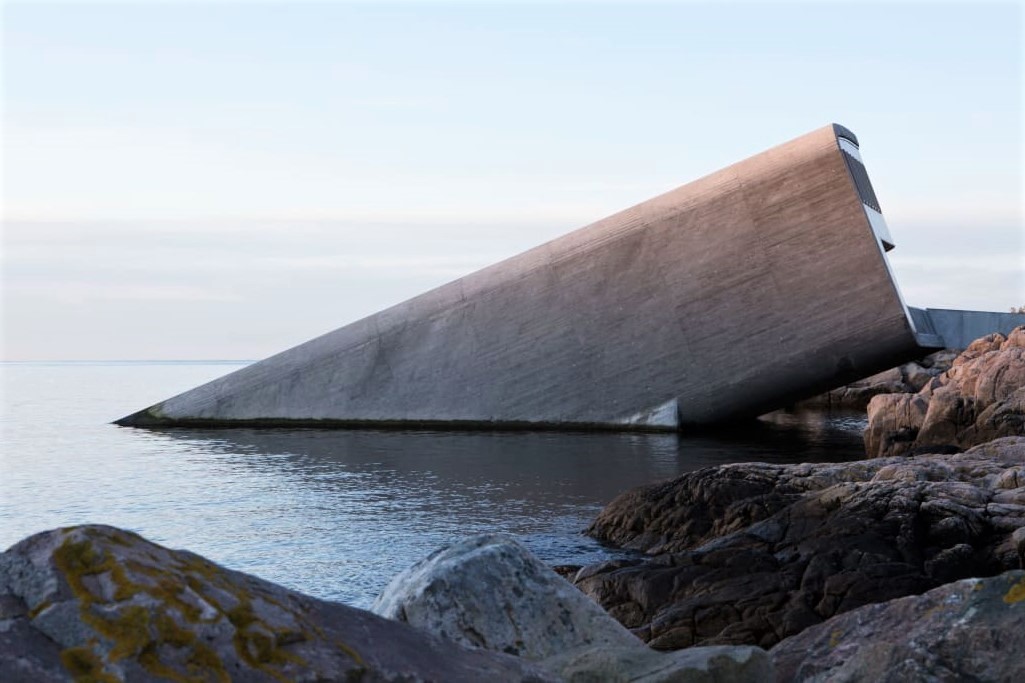 LAHORE MIRROR (Monitoring Desk)– Europe's first underwater restaurant is all set to welcome visitors as it construction completes in Norway.
It is five meters below the surface of the North Sea, near the southernmost tip of Norway.
The 110-foot long structure, an oblique concrete slab that looks like a sunken periscope, was submerged in July 2018 and welcomed the first guests on March 20.
The restaurant, called Under, is the design of Norwegian outfit Snøhetta, which has made a name for itself with projects such as the Bibliotheca Alexandrina in Egypt, the Oslo Opera House, the National September 11 Memorial Pavilion and the renovation of Times Square in New York. Under sits up to 40 guests, protected by concrete walls half a meter (1.6 feet) thick, and has a total internal area of about 500 square meters (5,300 square feet) set over three levels, offering unique underwater views of the surrounding marine environment through a 11-meter (36 feet) wide panoramic window.
"Under is a natural progression of our experimentation with boundaries," Snøhetta founder, Kjetil Trædal Thorsen, said in a statement. "As a new landmark for Southern Norway, Under proposes unexpected combinations of pronouns and prepositions, and challenges what determines a person's physical placement in their environment. In this building, you may find yourself under water, over the seabed, between land and sea. This will offer you new perspectives and ways of seeing the world, both beyond and beneath the waterline".
How Under went under
The restaurant was built in about six months on a barge near the coast, then towed into position — about 600 feet away — with a heavy-lift vessel. To submerge the structure, containers filled with water were placed inside, before securing it to the sea floor with a total of 18 anchoring points.
"It was a delicate operation, as the clearance to meet the bolts was just two inches," Rune Grasdal, a senior architect at Snøhetta, said in a phone interview.
More than half of the structure is submerged, and guests gain access through a glass walkway that will bridge the gap between the coast and the entrance, which is at shore level.
Under is made of reinforced concrete, to withstand the harsh conditions found in this spot of the Norwegian coastline.
"The first problem is water pressure, as we're five meters (16 feet) below the surface, but the biggest challenge is the waves. Wind and waves are extreme here. To withstand all these forces, the building is slightly curved, so it can better take to the waves, and it's thick: half a meter (1.6 feet) for the concrete and about 30 centimeters (1 foot) for the acrylic windows," said Grasdal.
SOURCE: CNN INTERNATIONAL