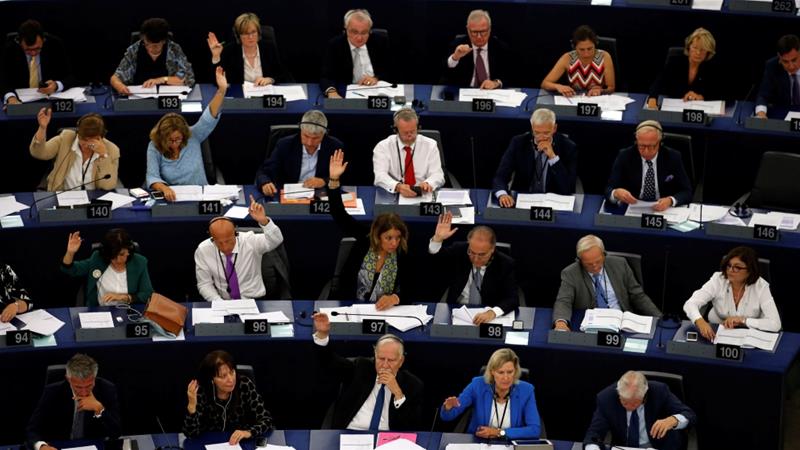 EU Legislators Say 'Yes' to Disciplinary Action Against Hungary
MEPs vote 448 to 197 to initiate punitive procedures against Hungary for moves against EU's 'democratic values'
LAHORE MIRROR (Monitoring Desk)– European Union legislators voted overwhelmingly in favour of launching punitive action against the Hungarian government for flouting democratic rules in a stunning political blow for Prime Minister Viktor Orban.
With 448 votes in favour, 197 against and 48 abstentions, the motion passed in the plenary session on Wednesday, the first time ever the European legislature triggered an Article 7 procedure against an EU member state.
The unprecedented vote could allow Hungary's EU voting rights to be stripped.
Dutch Greens MEP Judith Sargentini, who spearheaded the vote, smiled broadly and breathed a sigh of relief before embracing her supporters in parliament in the French city of Strasbourg.
"It is a positive sign of this parliament taking responsibility and wanting action," Sargentini told a press conference afterward.
She had urged colleagues not to let Hungary off the hook, declaring that Orban's rule "violates the values on which this union was built".
EU Commission President Jean-Claude Juncker said before the vote that the commission "will resist all attacks on the rule of law" in an annual state-of-the-union speech in the European Parliament.
Juncker went on to say the commission, which proposes EU legislation and oversees implementation of decisions, "continues to be very concerned by the developments" in some EU member states and promised to employ the rule-of-law procedure against any governments that veer from the EU's democratic principles.
EU 'blackmail'
Hungarian Foreign Minister Peter Szijjarto wasted little time in slamming the vote as "nothing less than the petty revenge of pro-immigration politicians".
"This decision condemning Hungary and the Hungarian people was made because we Hungarians have demonstrated that migration in not a necessary process and that migration can be stopped," Szijjarto told reporters in Budapest.
Refugee stance
The vote was hailed as "historic" by Berber Biala-Hettinga, Amnesty International's expert on human rights in the EU.
"The European Parliament rightly stood up for the Hungarian people and for the EU. They made it clear that human rights, the rule of law and democratic values are not up for negotiation," she said.
SOURCE: ALJAZEERA AND NEWS AGENCIES