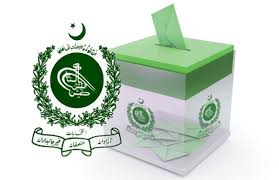 Elections 2018: Up to 12,570 candidates to contest against 1,070 seats
ISLAMABAD: The Election Commission of Pakistan (ECP) issued on Monday a list of contestants who will step into general elections 2018 for seats in the lower house of the parliament and provincial assemblies.
As per list, as many as 12,570 contestants will lock horn in the forthcoming elections scheduled to be held on July 25 this year.
The list further states that 3,459 candidates will contest for 272 general seats in National Assembly (NA) whereas 216 contestants will fight for 60 reserved seats in lower house of the parliament.
In Punjab [the bastion of Pakistan Muslim League Nawaz], 4,036 candidates will be vying for 297 general seats while 206 candidates will contest elections for 74 reserved seats.
In Sindh, 824 candidates will lock horn for 129 general seats whereas 130 candidates will lock horn for 38 reserved seats.
Coming to KhyberPakhtunkhwa where cricketer-turned politician Imran Khan's Pakistan Tehreek-e-Insaf has recently completed its tenure, 1165 candidates will face each other for 99 general seats while 99 for reserved seats.
In Balochistan, 943 contestants are vying for 51 general seats while 64 for 14 reserved seats.
It is worth here to mention that a PPP's candidate has already been elected unopposed from PS-6 Kashmor for seat in Sindh Assembly.