District Formations In Punjab Police Get New Heads, Jahanzeb Nazir Back To Field Again
DIG Imran Ahmar posted Regional Police Officer Dera Ghazi Khan a week ago joins field police after a considerable time gap
Muhammad Faisal Ali Ghumman
LAHORE– The Punjab police chief on Wednesday transferred and posted 11 police officers,majority of them were district police chiefs, said a notification issued from the Central Police Office (CPO).
SP Crimes Investigation Agency (CIA) Lahore Usman Ijaz Bajwa has been transferred and posted as DPO Layyah. 
SSP Operations Gujranwala Saqib Sultan Mahmood has been transferred and posted DPO Vehari vice Mujibur Rahman Bugvi.
SSP RIB Faisalabad Syed Hussain Haider has been posted DPO Chiniot vice Mohammad Anwar Khetran who has been transferred and posted DPO Bahawalnagar.
DPO Bahawalnagar Amara Athar has been transferred to report to the CPO.
The services of DSP-V SPU Punjab Ehsan ul Haq have been placed at the disposal of DIG Traffic Punjab, with immediate effect.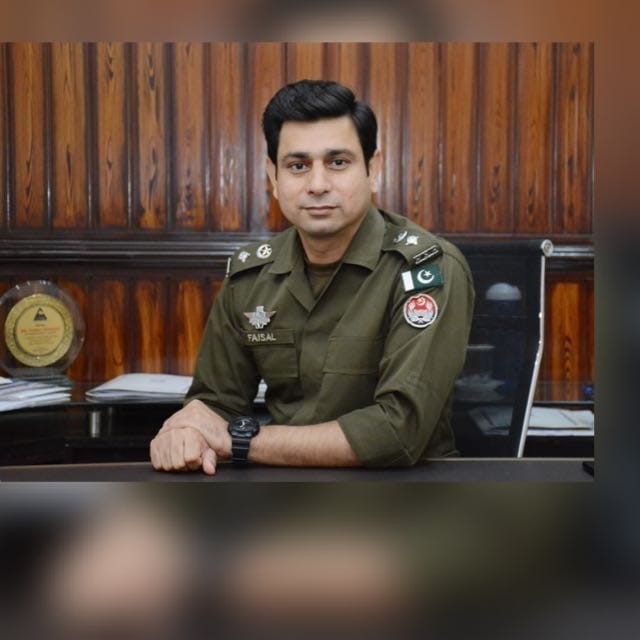 SP Security Lahore Faisal Shahzad has been transferred and posted as DPO Nankana vice Mohammad Naveed.
Mr Shahzad had earlier served Muzaffargarh as DPO during inter-government in 2018 and successfully managed general elections.
He has served Lahore police as SP Security, SP Model Town, SP Saddar and SP Mobiles while Peshawar police as SSP Traffic and SP Cantt. He is rated as a professional and upright police officer. SSP Headquarters Traffic Punjab Jahanzeb Nazir Khan has been posted DPO Okara vice Athar Ismail who has been transferred and directed to report to the Central Police Office (CPO).
Mr Nazir from 29th Common has served key districts of Khanewal, Gujrat and Sheikhupura besides a district in Sindh. He also remained divisional SP in Lahore police.
He had recently concluded five-month-long Senior Management Course (SMC) for next grade promotion.
RPO D G Khan Imran Ahmar Makes Entry Into Field After Time Gap
The Punjab government has recently posted DIG Imran Ahmar as Regional Police Officer Dera Ghazi Khan.
Mr Ahmar, who was posted DIG Security Division Lahore after getting promoted to the rank of DIG few months ago, remained detached from the active policing in the last few years.
Before his promotion, he served the Federal Investigation Agency (FIA). Mr Ahmar, who is the son-in-law of former Capital City Police Officer Lahore Malik Muhammad Iqbal, remained associated with Punjab Chief Minister Usman Bozdar's security for few months.
His last field posting was SP Model Town division Lahore around 11 years ago. Mr Ahmar, however, served as SSP Telecommunication Punjab for about two years.
Mr Ahmar replaced DIG Muhammad Umar Sheikh who has been posted DIG Special Protection Unit (SPU) Punjab. Mr Sheikh was involved in a video footage 'scam' that was quoted the DIG allegedly saying about rate of 'bribe' for each case while sitting at his office in uniform.
The DIG was removed from the post of D G Khan RPO 'unceremoniously', sources claim.
The others DIGs who got posting in the field are DIG Afzaal Kauser as RPO Sargodha and DIG Humayun Bashir Tarar as RPO Sahiwal.
Mr Kauser is rated as an upright police officer.— LAHORE MIRROR