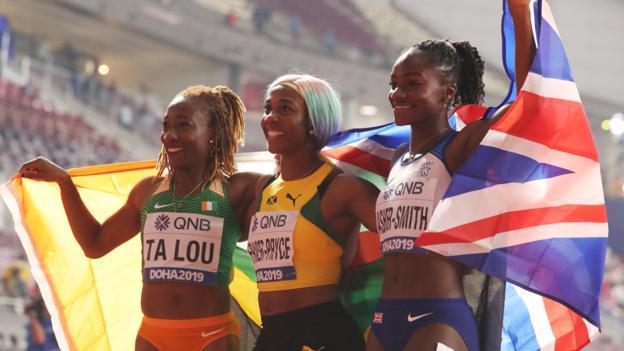 Dina Wins World Championships 100m Silver; Fraser-Pryce Takes Gold
LAHORE MIRROR (Monitoring Desk)– Dina Asher-Smith became the first British woman to win an individual World Championships sprint medal in 36 years as she claimed silver in the 100m final with Shelly-Ann Fraser-Pryce taking gold.
It is the 23-year-old's first 100m global medal outdoors with the 200m to follow, where she is a strong contender for gold.
Jamaica's Fraser-Pryce, 32, powered to 10.71 seconds in Doha for her eighth world title while Asher-Smith's 10.83 is a new British record.
"I have worked so hard for these championships and hopefully I'll go on to do even bigger things," Asher-Smith told BBC Sport.
"I'm really pleased to come away with a personal best and national record. That is more than you could ever ask for in a world final.
"I was thinking on the line: this is your time to go."
Ivory Coast's Marie-Josee Ta Lou took bronze in 10.90.
British athletics has waited a long time for someone to emulate the achievement of Kathy Cook, who won 200m bronze in the inaugural World Athletics Championships, back in 1983 in Helsinki.
Few showed the potential to do so in the intervening years before Asher-Smith's emergence. The Kent-born athlete was a double European junior gold medallist in 2013, before taking the world junior 100m title the following year.
She grew in stature when she became the first British women to dip under 11 seconds in 2015 before winning the European 100m title in 2016.
Relay medals followed at world and Olympic level before she won three European golds last year.
Expectations grew of what she could now achieve at world and Olympic level, but prior to this competition Asher-Smith told BBC Sport that she avoided making any predictions public – stating that her aims were only shared by those close to her, including her long-time coach John Blackie.
Her tunnel vision and mental fortitude took her to a different level this season, and she has now been rewarded with world 100m silver.
Asher-Smith is now aiming to win a further two medals – in the 200m and 4x100m relay.
"I think we've all got to dare to dream, simply because it's the championships," Asher-Smith said of her 200m hopes, with the heats beginning on Monday from 15:05 BST.
"I'm going to go to bed, hopefully get some sleep and turn up in the right state of mind for tomorrow."
Fraser Pryce, who carried son Zyon on her lap of honour, told BBC Sport: "To be standing here as world champion again after having my baby, I am elated.
"Having my son and coming back, performing the way I did, I hope I can give inspiration to all the women starting a family or thinking of starting a family. You can do anything."
Fraser-Pryce wins eighth world title – 11 years after Olympic gold
In the end it was a straight duel between Fraser-Pryce and Asher-Smith, who had defeated the Jamaican in the Brussels Diamond League final earlier in September.
The Briton came to Doha having recorded times under 11 seconds in every 100m race she had run this season – six in total – bar the heats of the British Championships. She maintained that consistency here, clocking 10.96 in Saturday's heats and then 10.87 in her semi-final two hours before Sunday's final.
But Fraser-Pryce looked that little bit sharper. The 32-year-old, whose first major global gold was the Beijing 2008 Olympic 100m title, set the fastest time in a World Championships heat with 10.80 before cruising to 10.81 in her semi-final.
In the final, Asher-Smith gave all she could but it was not enough to overhaul one of world sprinting's all-time greats.
However, the fillip for Asher-Smith is that Fraser-Pryce is not on the startlist for the 200m while Bahamian Shaunae Miller-Uibo, who easily beat the Briton in the Birmingham Diamond League, will only race in the 400m because of the schedule.
The Briton is ranked first in the event this season, although both Nigeria's Blessing Okagbare and Jamaica's Olympic champion Elaine Thompson have run faster times.
By the time the 100m final took place at 23:20 local time, the stadium was virtually deserted and Fraser-Pryce, Asher-Smith and Ta Lou had few people for company as they completed their lap of honour.
The poor attendances over the first three days in Doha have been a major talking point and BBC Sport pundit Denise Lewis said on Sunday that athletics' governing body the IAAF "has let our athletes down massively".
She added: "I walked into the stadium tonight, looked around and said, 'is this the World Championships?' We've waited until October to have stands like this. Empty. Absolutely shocking. I think the athletes, they work so hard, they try to peak at the right time for an empty stadium. I just think it's not right.
"I didn't expect it to be this bad. We want to see people. The athletes deserve people, an energy and an atmosphere to thrive on."
The IAAF told BBC Sport that Friday's day-one attendance at the 40,000-capacity Khalifa International Stadium was 11,800 ticket-holders with up to 2,000 guests, while Saturday's crowd was 11,300 plus guests. Sunday's figures were not yet available.
SOURCE: BBC NEWS