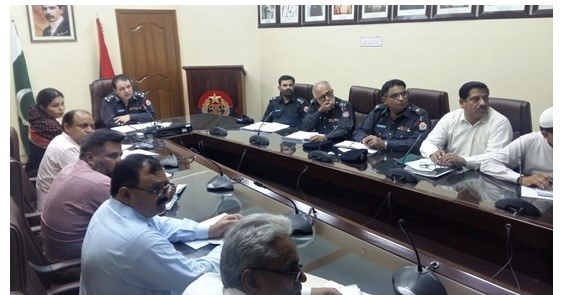 DIG Pakistan Railways Police Shariq Reviews CPEC And ML-1 Program Security
LAHORE– A meeting to review the security of CPEC & ML-1 Program was held at the Pakistan Railways's Central Police Office.
Shariq Jamal Khan, the DIG Headquarters Pakistan Railway Police, chaired the meeting.
During the meeting, views regarding the security of ML-1 Program in the light of CPEC Project were shared and security measures for the future were scrutinized. The DIG Headquarters Pakistan Railway Police said the CPEC project is imperative to the progress of Pakistan and it's the responsibility of Railway Police to provide security to Chinese Engineers, Chinese Infrastructure & Railway Infrastructure and a composite security plan must be devised to ensure security measures.
Mr. Iftekhar, Rolling Stock Specialist, CPEC, said that ML-1 Program has been divided into 3 segments according to the CPEC project, whereas the 1st Segment includes a 183 KM track from Nawab Shah to Rohri.
The meeting at the Pakistan Railways Central Police Office was attended by Riaz Ahmad Bosal, AIG Pakistan Railway Police, Shahid Nawaz, SP Railway Police Lahore Division, Bakir Gillani, SP Railway Police Workshops Division, Ms Qurat-ul-ain Fatima, Director Public Relations along with other higher ups of Railway.— PRESS RELEASE