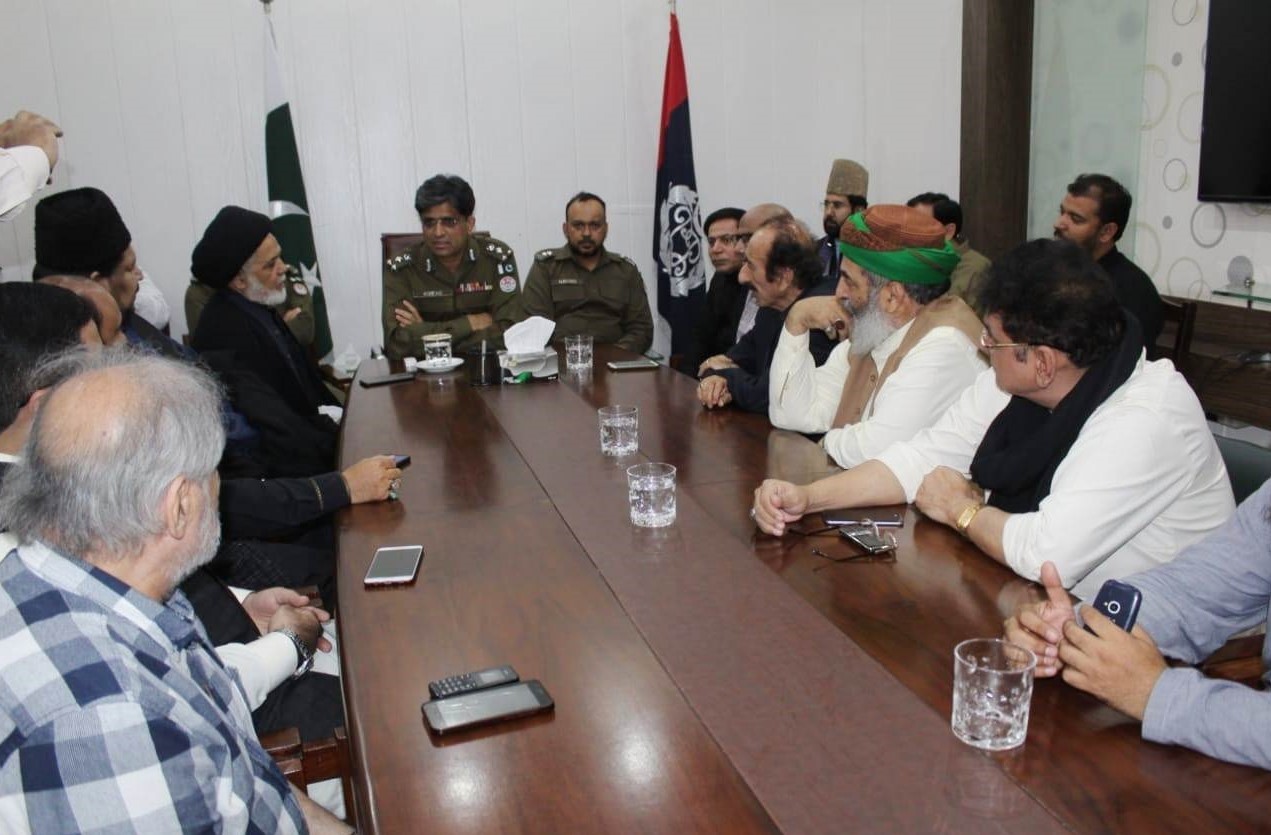 DIG Ops Lahore Stresses Religious Harmony Among Different Sects
LAHORE– Deputy Inspector General of Police (Operations Wing) Lahore Ashfaq Ahmad Khan has stressed upon the need for creating religious harmony and forging unity among the people of different groups, sects and beliefs to ensure maintenance of peace and solidarity in the city particularly during the Chehlum of Hazrat Imam Hussain (RA).
Ashfaq Khan said it was the need of hour to foil nefarious designs of anti-state elements, adding that love and fraternity should be promoted among various sects.
He was presiding over an important meeting of District Peace Committee in connection with Chehlum of Hazrat Imam Hussain (RA).
Ashfaq Khan said that security arrangements could only be proved successful with integrated efforts and the cooperation of Ulema along with civil society. Interfaith harmony, brotherhood and tolerance are necessary to overcome the present challenges of extremism and acts of terrorism by making coordinated efforts for establishing sustainable peace, he added.
SSP Operations Lahore Faisal Shehzad, SP Security Lahore Muhammad Naveed, SP City Syed Ghazanfar Ali, members of the Peace Committee including Agha Shah Hussain Qazalbash, Allama Mushtaq Hussain Jaffari, Khawaja Basharat Hussain Karbalaie, Syed Muhammad Laal, Syed Khurram Naqvi, Mufti Imran Hanfi, Bashir Ahmad, Pir Syed Muhammad Usman Noori, Muhammad Ali Naqshbandi along with representatives of different schools of thoughts attended the meeting. DIG Operations Lahore Ashfaq Khan urged the Ulema-e-Karam to play effective role for promotion of religious harmony during the Chehlum of Hazrat Imam Hussain (RA). He asked them to extend full cooperation and support to the government in its efforts for elimination of extremisms in the society.
Ashfaq Khan appreciated different proposals and suggestions from Ulema to ensure peace during Chehlum of Hazrat Imam Hussain (R.A) and said that he is available to every member of DPC for any guidance and support.
He stressed upon the need to streamline effective and regular coordination between the members of Peace Committee and all stakeholders including Lahore Police to ensure maintenance of peace during Chehlum.
He requested the Ulema to create awareness among people to eliminate anti social elements from society. Ulema-e-Karam from different religious parties appreciated the efforts of Lahore Police for establishing permanent peace in the city during last Muharram.
They assured their full cooperation for maintenance of peace during the Chehlum of Hazrat Imam Hussain (RA).— PRESS HANDOUT