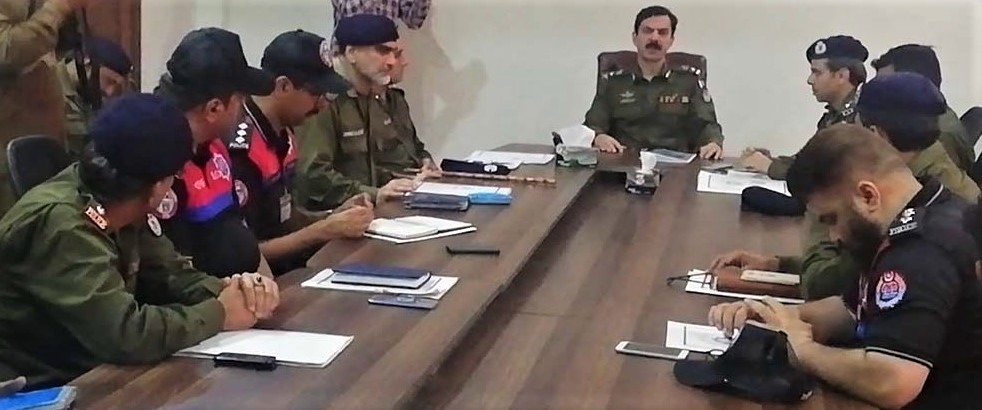 DIG Operations Reviews Performance Of Dolphin Squad, Police Response Unit
Waqas Nazir says future of modern policing in Pakistan depends on Dolphin Squad, Police Response Unit and other such professional forces
LAHORE MIRROR REPORT– Deputy Inspector General Operations Lahore Muhammad Waqas Nazir has said the Dolphin Squad and Police Response Unit are the first responders and exemplary crime fighting forces, controlling street crime with modern professional skills and rendering best service through community policing.
"The future of modern policing in Pakistan depends on Dolphin Squad, PRU and other such professional forces."
Dolphin Squad has the status of flagship project to create sense of protection and trust among people. The street crime in the metropolis has lessened to a great extent due to the excellent performance of Dolphin Squad and PRU, he added.
"We should adopt polite behavior and positive attitude towards people along with utilizing best possible capabilities to make Lahore the safest Mega City of the region."
The DIG expressed his views while presiding over meeting to review the performance of Dolphin Squad and Police Response Unit at the Dolphin Headquarters Walton today.
SSP Operations Lahore Captain ® Mustansir Feroze, SP Dolphin Squad Bilal Zafar, SP Cantt Shehbaz Elahi, divisional DSPs and sector in-charges of Dolphin and PRU were present on this occasion.
SP Dolphin Squad Bilal Zafar informed the DIG Operations regarding the overall performance of Dolphin Squad and PRU units and said Dolphin Squad has created positive image of Police in the eyes of citizens through their street crime controlling efficiency and timely help of people on roads through community policing.
He urged to further strengthen the performance and capacity building of Dolphin and PRU.
DIG Waqas Nazir said Dolphin Squad and PRU are highly professional and trained patrolling forces, playing pivotal role in controlling crime, exclusively fighting street-crimes in Lahore.
He said non-stop patrolling by Dolphin units on busy roads and in congested areas has surely foiled many attempts of crimes and downgraded the crime rate in the metropolis.
"Dolphin and PRU forces are a step forward in augmenting the efforts of Police to make provincial capital more peaceful", he added. Dolphin force has added a new vigour to the largest law enforcing agency in its fight against criminals," Waqas Nazir said.
He said this patrolling unit has not only created a soft image of the police but also created a sense of security among the citizens.
"The policemen need to change their behavior towards people in order to achieve better results in law enforcement."
The DIG recognized and encouraged the dedication and services of Dolphin and PRU forces in the meeting.— PRESS RELEASE