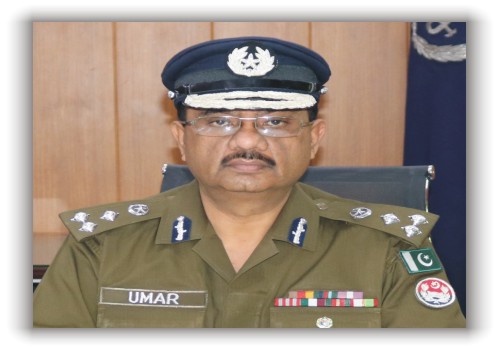 DIG Muhammad Umar Sheikh Assumes Charge of CCPO Lahore
-- Says crime free city will be his first priority and there will be zero tolerance policy against gambling dens
LAHORE– Muhammad Umar Sheikh, the newly appointed CCPO of Lahore, assumed charge of his post on Wednesday. The new commander of Lahore Police was welcomed by DIG Investigation Shahzada Sultan and DIG Operations Lahore Ashfaq Ahmad Khan.
CTO Captain (retired) Syed Hammad Abid, SSP Admin Captain (retired) Liaqat Ali Malik, SSP Discipline Ibadat Nisar and SP Legal Asif were also present on the occasion.
CCPO Lahore, Muhammad Umar Sheikh, who belongs to the 20th Common, has served as DPO including Nawabshah, Jacobabad, Larkana , Jamshoro and as as a Regional Police Officer in DG Khan. Newly appointed Lahore Police Chief is one of the most professional, seasoned and experienced police officers.
Muhammad Umar Sheikh has served in the IB for seven years and in the Pakistan Embassy in Washington for four years. In addition, CCPO Lahore also served as DIG Motorway Police and DG Counter Terrorism in NACTA.
In addition to Cyber ​​Law, he has done Digital Forensic courses from George Washington University in the United States and has also received MI-6 training from England and lastly he has been working as a DIG SPU in Punjab for the last one year.
Crime free city will be my first priority and there will be zero tolerance policy against gambling dens: CCPO
The city police chief met with DIG Investigation Shahzada Sultan, DIG Operations Ashfaq Ahmad Khan, CTO Lahore Syed Hamad Abid, SSP Admin Liaqat Ali Malik, SSP Investigation Zeeshan Asghar and SSP Discipline Ibadat Nisar.
Referring to his priorities, he said making Lahore a crime free city would be the first priority, concrete steps would be taken, while categorizing crime, criminals would be eradicated by identifying crime hotspot areas, Mohammad umer Sheikh added.
Sheikh said that no criminal is out of reach of the law, immediate operations will be carried out against gamblers and casinos.
He said that gambling and casinos are breeding places for giving birth to crime. The Youth will be saved from gambling and drug addiction.He added that third priority will be strict departmental accountability, self-accountability process ensured, Will be punished for negligence and rewarded for honesty.
The CCPO Lahore further said that the best services will be provided within the available resources, those who will do professional work will stay. community policing and Special attention will be given to the welfare of Force.
Lahore police chief said, adding that separate laws for the strong and the weak are not acceptable at all, equality with all, citizen service and internal accountability are priorities.
There will be no compromise on transparency, he said, adding that there is no justification for avoiding registration of FIRs. He also directed to improve the ratio of investigation of cases.— PRESS RELEASE