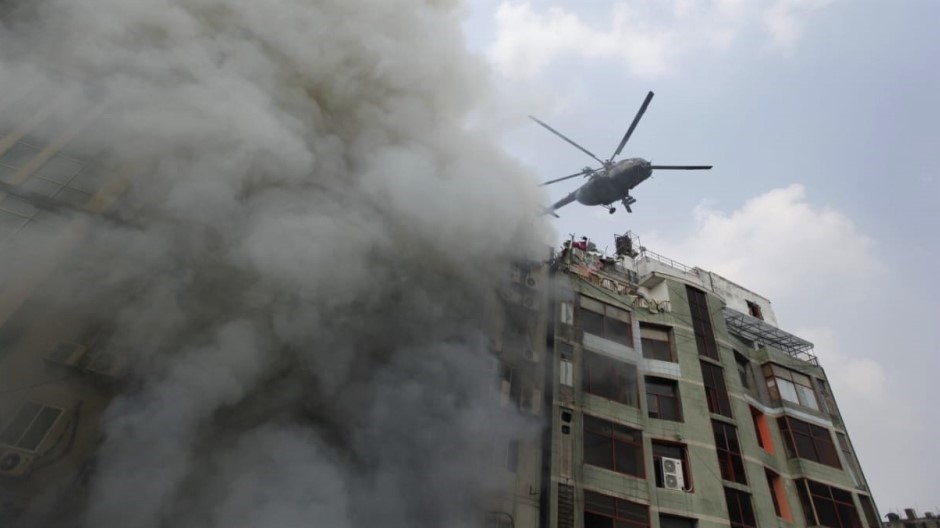 Deadly Fire Engulfs High-Rise Building In Dhaka, Kill 19 People
Rescuers warn death toll could rise as firefighters search the charred building in Bangladeshi capital
LAHORE MIRROR (Monitoring Desk)– A huge blaze erupted in a high-rise office building in Dhaka, Bangladesh, killing as least 19 people and injuring scores more, officials have said.
Many people were trapped inside the building when the fire broke out in the Bangladeshi capital on Thursday and rescue workers warned that the death toll could rise as firefighters search the charred structure.
"The situation is under control," said Debashish Bardhan, a Fire Service and Civil Defense deputy director, as quoted by AP news agency.
The fire had lost some of its intensity but was not fully extinguished, Bardhan said.
The blaze at the FR tower, located on a busy avenue in Dhaka's Banani commercial district, was the latest in a city where flouted building regulations and safety norms have made deadly blazes common.
Witnesses described seeing people shouting for help from windows on the upper floors of the building. Some workers slid down a television cable on the side of the building, while others grabbed ropes that were lowered by emergency service helicopters which pulled them out of the blaze.
"When I heard a fire broke out in the building, I quickly rushed out of the building," Shoikot Rahman told AFP news agency.
"Many of my colleagues are still trapped in the office," said Rahman who ran to safety after hearing colleagues raise the alarm.
A military spokesman, Abdullah Ibne Zaid, said the body of a Sri Lankan man was brought to the army's Kurmitola Hospital and another 45 people were being treated there. Another fatality was reported at the Dhaka Medical College hospital.
At least six people died after jumping from the 22-floor building, AFP news agency reported, citing officials.
Helicopters dropped water on the blaze as flames and thick black smoke poured out of the windows.
Navy and air force soldiers aided scores of firefighters to douse the flames.
SOURCE: AL JAZEERA AND NEWS AGENCIES