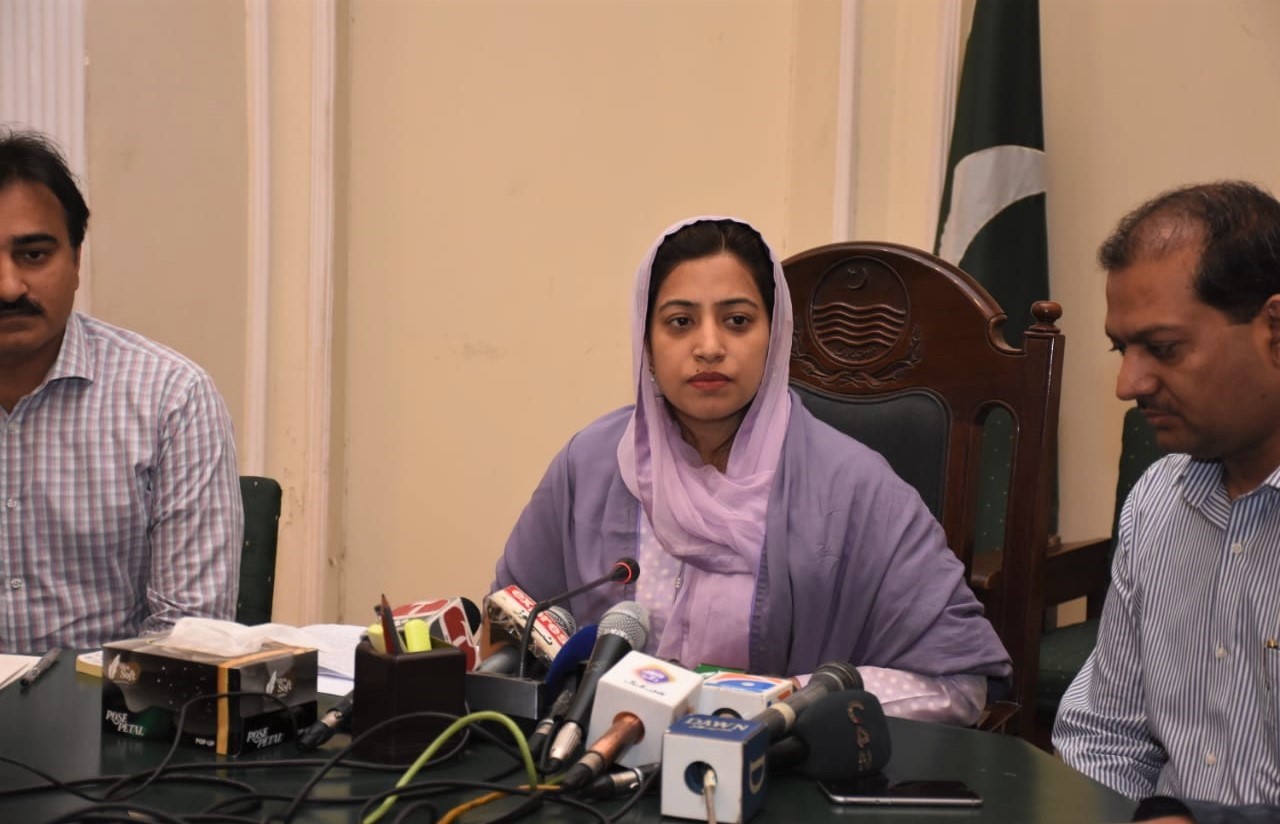 DC Lahore Saleha Saeed Shown The Door For 'Poor' Performance, 'Corruption'
Her departure 'followed' Punjab Health Minister Dr Yasmeen Rashid's meeting with Chief Minister Usman Buzdar regarding anti-Dengue campaign
By Muhammad Faisal Ali Ghumman
LAHORE– Deputy Commissioner (DC) Lahore Ms Saleha Saeed was 'unceremoniously' removed from the post on Saturday on the direction of Chief Minister Punjab Sardar Usman Buzdar, a move that is said to be linked to the recent spate of transfers in provincial field bureaucracy on the grounds of service delivery and integrity.
The transfer of Ms Saleha followed an important meeting between Punjab Health Minister Dr Yasmeen Rashid and CM Buzdar about poor outcome of anti-Dengue campaign in the Lahore district.
Though there are reports that the DC had been fired after increasing number of Dengue cases in Lahore district, but informed sources close to the CM circles 'believe' that Buzdar received some more complaints of the DC's indirect involvement in alleged 'corrupt' practices and her inefficiency in executing public-specific directions.
The health minister reportedly complained to the CM that the Lahore's District Administration didn't cooperate with her regarding anti-Dengue measures.
Ms Saleha's performance also remained a question as she was seen delivering more in media publicity campaigns rather on ground.
A handout issued by the Chief Minister's office alleges that the Lahore's district administration under Saleha's command failed to take timely steps in anti-Dengue countering measures, overcome encroachments, maintain road repairs and ensure cleanliness and sanitation drive in the provincial capital.
Ms Saleha, who was the first-ever DC Lahore, stayed over a year or so, but critics don't rate her as result-oriented officer.
An informed source told lahoremirror.com that the DC's father allegedly used to sit in the DC office and run some 'illegal' affairs with the alleged 'backing' of her daughter.
He said the officer also failed to deliver on administrative side most of the time she lacked field visits and monitoring mechanism.
The source added that Saleh's transfer merely on a single complaint lodged by the provincial health minister could be an excuse to remove her under the garb of other complaints of serious nature as earlier Deputy Commissioner Rawalpindi Muhammad Ali Randhawa was also transferred on Dengue-related issue few days back.
Mr Randhawa was supposed to be transferred on some other ground, the source claimed.
Deputy Commissioner Saleha Saeed, who has been ordered to report to the Services & General Administration Punjab for further orders, didn't respond to text messages dropped at her cell number to get her version.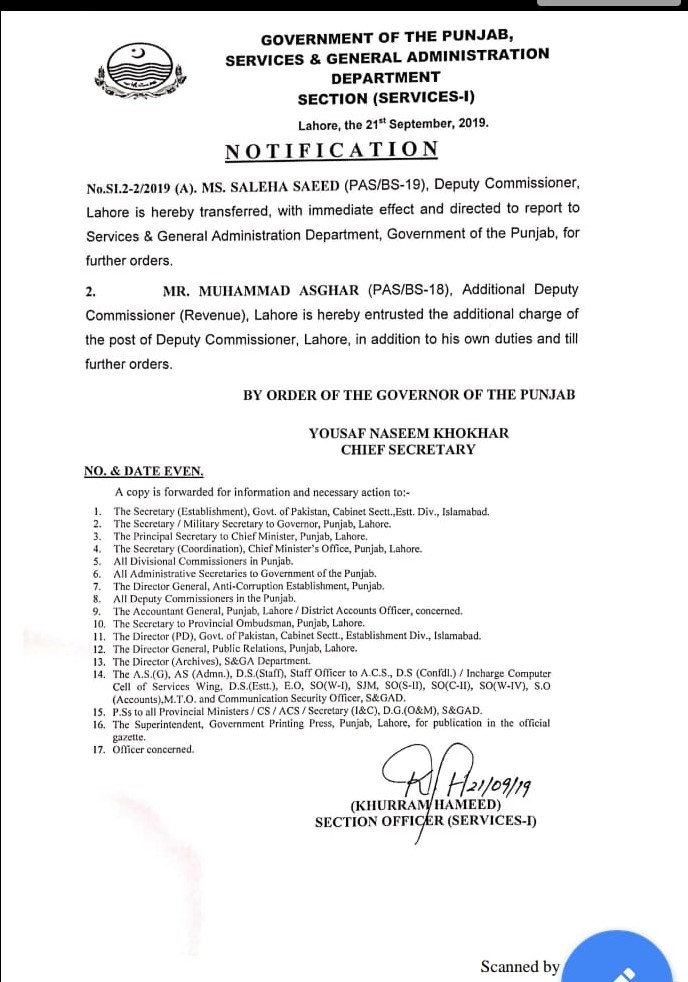 Meanwhile, the charge was handed over to Additional Deputy Commissioner (Revenue) Lahore Muhammad Asghar Joyia till further orders.
Govt tightens noose around bureaucrats
The PTI-led Punjab government has so far removed three District Police Officers (DPOs) and two Deputy Commissioners (DCs) in recent spare of transfers.
On the one hand, field officers are mentally disturbed over NAB actions, and on the other are facing danger of transfers in embarrassed way because of tough stance the federal and Punjab governments have taken against inefficiency and corruption among civil bureaucracy.
Sources in the Chief Minister's Secretariat predict more such transfers in days to come. — LAHORE MIRROR